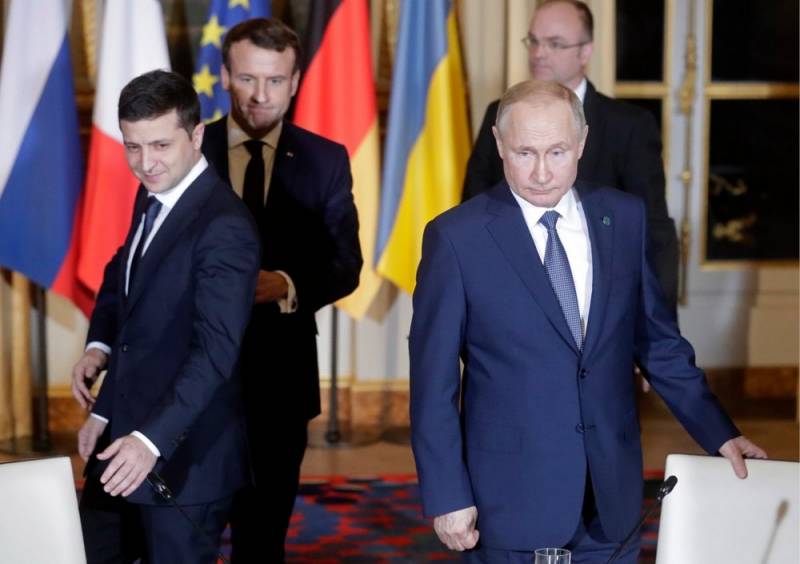 Speaking on the air of Ukrainian channels, Vladimir Zelensky often becomes the object of provocative questions relating to relations between Ukraine and Russia, as well as his personal attitude to the Russian leader Vladimir Putin.
Actually, in the civilized world, these questions themselves are not provocative, but when they are asked in Ukraine, then local Nazis, nationalists and just lovers of fighting "to the last" give them a special meaning.
During the broadcast on the 1 + 1 channel, which almost more than others incited ethnic hatred, Zelensky had to answer the question of whether he shook hands with the Russian president at the "Norman summit."
The Ukrainian president answered the question in the affirmative, and noted that he was ready to shake hands with Vladimir Putin more than once for the return of Donbass, and a hundred times for the return of Crimea.
Commenting on a handshake in Paris, Vladimir Zelensky said:
Yes. And how can one meet differently at the highest level? How can one start a dialogue without this? How can you agree on something, and most importantly - not just in words, but to resolve issues?
The Ukrainian leader also explained why he avoids calling Russia and its president an "aggressor." According to him, in order to achieve peace in the Donbass, you need to look for ways to negotiate, and not "spit on someone."
I would like to believe that the investigation of crimes that began in Ukraine, which involved volunteers, activists and former atoshniks, will not stop, and after a while the number of this audience will noticeably decrease.