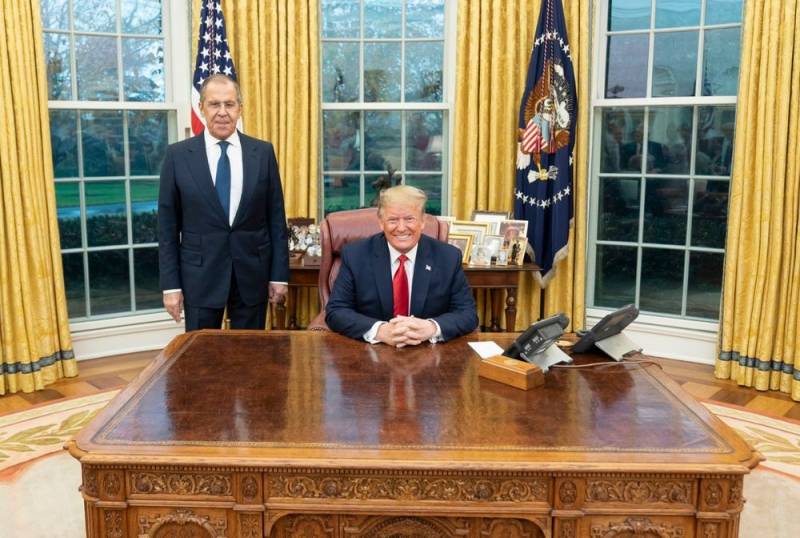 Political
Opponents of US President Donald Trump use any excuse to accuse the American leader of "betrayal" and work for the Kremlin. Moreover, when there is no reason, they invent it.
For example, Republican Trump, who loves to show off and leads an active life on social networks, posted on his Twitter account a joint photo with Russian Foreign Minister Sergei Lavrov. At the same time, Trump said that it was a "good meeting." Trump explained that the parties discussed a wide range of issues: trade relations, North Korea, Iran, the INF Treaty and nuclear arms control. The topic of "interference" in the elections was even raised. So the agenda of the meeting was intense.
We look forward to continuing our dialogue in the near future!
- Trump emphasized, not hiding that he was satisfied with the negotiations.
After that, the US Democrats began to hysteria. They violently attacked Trump, calling him "Putin's agent." At the same time, some American politicians bitten by their Ukrainian colleagues had enough of one photograph of Trump with Lavrov to start initiating a reaction similar to the results of a pack of yeast getting into a village toilet.
All roads lead to Putin
- it is with such a short phrase that one can characterize the general (censored) opinion expressed to Trump, part of the American public. But there are a number of interesting (censorship) statements.
Both people in this picture work for Vladimir Putin
- wrote JJ @ JJ_J0NE5.
How was your performance? Is Putin happy?
Thorsten @Airvooocht asked.
Retired, traitor
- demanded user @GMSarli.
It should be noted that on December 11, 2019, a working meeting between Lavrov and Trump in the White House really took place. And, as Lavrov specified, this meeting was held in an atmosphere of dialogue and mutual understanding.
On both sides there is a focus on ensuring that in areas where we can work long-term, mutually beneficial and productively, do more, make more efforts in order to achieve concrete results
- emphasized the head of the Russian Foreign Ministry after talking with the American president.
We remind you that U.S. Democrats began to accuse Moscow of interfering in the U.S. election after Trump's victory in 2016. They could not prove anything during this time, but they continue to regularly arrange tantrums.