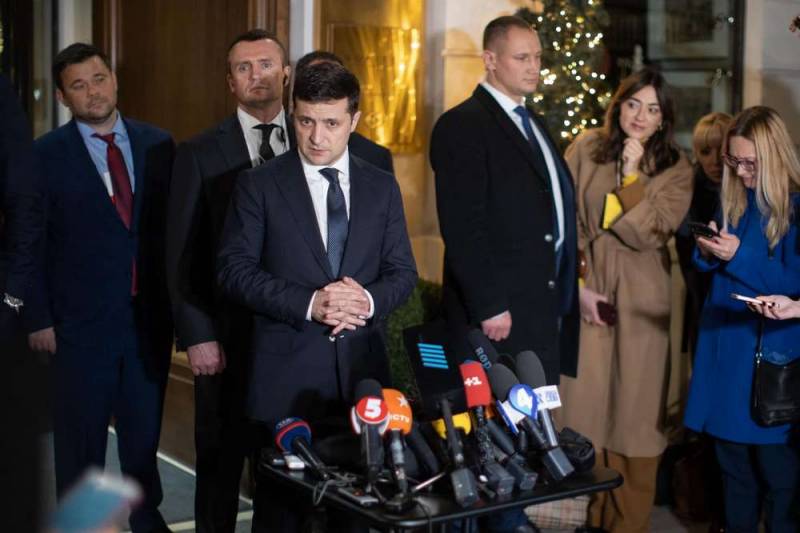 The lack of diplomatic experience played a cruel joke with the President of Ukraine during the meeting of the "Norman Four", which ended in Paris.
The Minister of Internal Affairs of Ukraine Arsen Avakov in a conversation with a journalist Dmitry Gordon told how Vladimir Zelensky lost his face during the negotiations.
According to Avakov, in the course of bilateral negotiations, which took place in Russian, at some point Zelensky could not restrain himself and fell upon the head of the Russian Foreign Ministry:
Mr. Lavrov, stop nodding your head. No need to nod your head, yes, I know your last name. Unlike you, I went around all these places along the border with my own feet. No need to nod your head here, that you know everything here.
Talking about the incident, the head of the Ministry of Internal Affairs tried to present the incontinence of the president of Ukraine as a positive character trait, and the journalist with low social responsibility, Dmitry Gordon, was probably embarrassed to ask where this positive trait of Zelensky was during a conversation with Trump, the record of which the American president kindly made public.
And let no one, and especially Zelensky himself, be fooled by the good-natured appearance of Arsen Avakov, who built his business empire on the blood of partners.
For the time being, he spoke flatteringly about his previous patron, Petro Poroshenko. Exactly until he received a guarantee from the oligarchs supporting Zelensky. If necessary, he will merge it as easily as Poroshenko.