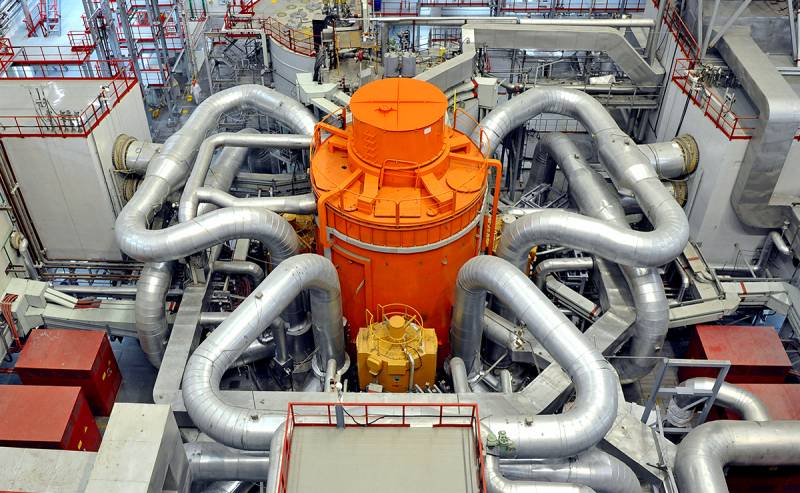 The project of the first commercial nuclear power unit with a BN-1200M fast neutron nuclear reactor has become even closer to its implementation. If Atomproject JSC (part of Rosatom) will justify the competitiveness of a promising development, then the decision to build a pilot power unit at the Beloyarsk NPP can be made already in the early 20s.
Recall that in 2018, Rosatom Corporation adopted a new strategy for domestic nuclear energy. Its essence lies in the transition to a two-component system, where VVER thermal neutron reactors will be operated in combination with fast neutron reactors in a closed nuclear fuel cycle (NFC).
The above approach allows us to effectively solve two important problems at once: to reduce the amount of radioactive waste due to the "burning out" of dangerous radionuclides and, as a result, to use the limited reserves of natural uranium more economically. It is worth noting that today Russia is a leader in the technology of creating fast neutron reactors.
In 2017, Rosatom prepared
technical
project of the first commercial "fast" power unit BN-1200M with a capacity of 1200 MW. Then, at a meeting of the thematic scientific and technical councils of the corporation, it was decided to finalize the documentation in order to improve the technical
economic
indicators.
According to the current terms of reference, the construction of the BN-1200M will take 60 months, its life will be 60 years, and the unit cost of electricity will be 2,35 rubles per kWh. At the same time, the "fast" power unit is much safer than modern reactors.
In the case of confirmation of commercial competitiveness, obtaining all necessary permits and documents (which will take time), the construction of BN-1200M at the Beloyarsk NPP may begin by 2025.