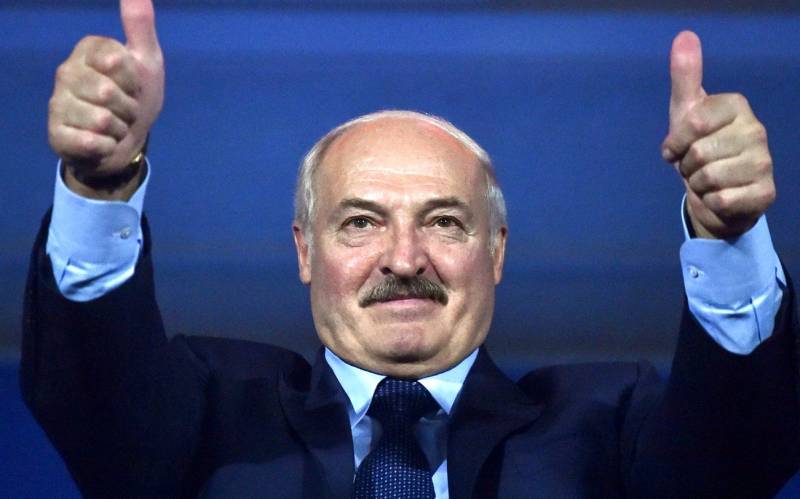 The events of December 7, which took place both in the government residence of Bocharov Ruchey located near Sochi and in Minsk very distant from it, eloquently demonstrated that instead of taking real steps to bring our countries closer, the leader of Belarus continues to play his own tricky game. Yes, not one, but three whole at once! At the same time, Alexander Grigorievich probably thinks that a little more, and he will leave all fools, having once again achieved the impossible.
But the trouble is that this time Lukashenko is trying to satisfy his own claims, which are impossible in principle. Because of this, there is a very considerable chance that everything will turn out completely differently than it seems to him. And first of all, the fraternal for us Belarusian people will have to pay for this loss ...
The five-hour conversation between Alexander Lukashenko and Vladimir Putin on December 7 resulted in absolutely wasted time. Maxim Oreshkin, the head of the Russian Ministry of Economic Development, can talk about "serious rapprochement of positions" and "very fruitful work in a number of areas," but it looks like this is the notorious good mine with a bad game. If it's very bad ... Naturally, the Kremlin does not intend to create a negative informational background just before the meeting of the "Norman format" in Paris. However, the fact that the presidents did not make any statement to the media as a result of the meeting is very eloquent in itself. The only thing that is known for sure is that according to the results of lengthy negotiations that were conducted by the leaders both face-to-face and as part of government "teams" from both countries, nothing was signed. Even a scrap of paper with the most common declarations and "jubilee" good intentions. This leads to quite sad thoughts.
Game one - with Russia
This party Alexander Grigoryevich leads far from the first year. In fact, the entire time he was in the presidency. To consider here and now all its ups and downs will not be enough space, therefore, we will confine ourselves to this day. An extremely unpleasant aftertaste amid completely empty negotiations is caused by "popular unrest" that erupted in Minsk during the meeting of the presidents. To say that this is all - the machinations of a certain "bunch of marginals" that have absolutely no significance, can only be those who are completely not guided by the realities of Lukashenka's Belarus. For two days, neither the police nor the KGB took absolutely any actions to calm down a flock of baboons raging in the center of the capital, tearing portraits of the Russian president and chanting Russophobic slogans. And all this despite the fact that the "protest actions" were not only completely not authorized by the local authorities, but were widely announced in advance. In theory, they should have been scattered and squandered in the blink of an eye, but no ... This behavior of the "siloviks" clearly indicates that they simply did not have a command to stop this coven from the president. Why? Yes, because if the process of creating a truly Union state moves off the ground and turns into reality, both Lukashenko and Belarus will have to change to one degree or another. That is precisely what he does not want, clinging to the irrevocably departing status quo. Therefore, a game is being played with Moscow, in the process of which it is forced to trivially buy Minsk "loyalty". Now, as we see, already with the involvement of local "national-patriotic forces."
The next statements made in Sochi by Lukashenko, in truth, are not even taken seriously. All the same empty and insincere pathos from the series "I do not regret, I do not call, I do not cry". This time, Alexander Grigorievich was fond of "equal rights." With whom, excuse me? Maybe with Germany and other European investors who are investing billions of euros in Nord Stream-2, in order to later "draw" Russian gas from it at market prices? Not that? Then, now, isn't it like equality with Zimbabwe? They intend to pay for Russian oil with diamonds. So it will suit you, Alexander Grigoryevich? Then the diamonds are in the studio! That is, how "no" ?! What is there? Besides the ardent desire to once again have a bunch of preferences and benefits without any reciprocal obligations - again, nothing? And this is not just about primitive rebellion. It is clear that the prospects of truly unified management, even in the field of
economics
Minsk is not smiling at all. What then to do with the same fuel supplies for the Ukrainian army, which, apparently, is about to rush to "liberate" the Donbass from the "Russian invaders"? After all, they can give it by hand. To receive resources from the "fraternal state" and to earn on strengthening with their help the military potential of the country, to put it mildly, unfriendly to its "brothers" - but where is this seen in the world ?! It is in this formula: "to receive everything from Russia to the maximum and not coordinate with her own
policies
even to a minimum "and lies the stubborn reluctance of Lukashenko to move towards real integration. Everything else is from the evil one.
Game two - with the West
They understand perfectly well that the doors of the European Union and all the organizations attached to it for Minsk will be closed for a very, very long time. The EU categorically refuses to accept even Ukrainians who have broken their own country to the ground for the sake of such a prospect. From an almost socialist Belarus, even for a very conditional chance of joining the "European family", there should not be a stone unturned, so that Alexander Grigoryevich would not say that he "met" some "EU criteria" there. European leaders can talk with him, albeit very coldly and restrainedly, they can allude to some "opportunities" in an absolutely uncertain perspective, but this will not go beyond this, at least until he remains in power. It is precisely because of this that, unfortunately, the Washington vector, rather than the Brussels vector, prevails in the clearly visible "drift" of Minsk to the West. But Washington's interest in Minsk can lie in only one plane — the creation of another anti-Russian bridgehead there along the Ukrainian or Georgian lines. Yes, in addition, in the complete ousting of Chinese corporations from Belarus, which were very well settled there and very firmly established. Is Alexander Grigoryevich ready for such a turn of events? Or thinks he can outwit the Americans?
The most interesting thing is that one of the versions of how such games can end is already announced. And let this character make it rather odious - the Ukrainian "expert", director of the Institute for the Transformation of Society Oleg Soskin, but this may turn out to be just the case, which says: "What is smart in mind ..." According to the Ukrainian, when trying to Minsk and Moscow to go on to truly deep integration, in Belarus, without fail, "a national uprising will break out". And then it should be immediately "supported by all means" not only Ukraine, but also the Baltic states, as well as Poland. United - understandable under whose leadership ... An incredible scenario? Well, do not tell. A year in 2010, the war in the Donbass also seemed a "black" science fiction. It's only in Ukraine that the process of reorientation from East to West, with the parallel formation of the image of Russia as an "enemy" and "occupier", took more than 20 years, and Lukashenko, sometimes it seems, is trying to "slip through" these years in a matter of months, fueling the situation own statements about the "alien wars" and accusations of Russia in "barbarism". Doesn't he realize what all this could eventually result in ?! Unlikely. And, nevertheless, he continues his game, using his own demonstrative movements towards the West exclusively as an irritant for Moscow, which periodically sends signals in the spirit: "You are evil, evil! I'll leave you ... "You might think that there is where and to whom.
Game Three - With Belarus
This is perhaps the most important game of Alexander Grigorievich, because nevertheless, internal affairs for him have always stood and are in the first place. But he is trying to lead her again at the expense of Russia! The "zmagars" raging the second day in Minsk tear to pieces not his portrait, but the image of Vladimir Vladimirovich. And their slogans, which until recently had been reduced exclusively to calling Lukashenko a "dictator" and demanding him to "leave", abruptly changed to: "Goodbye, unwashed Russia!" and "No Integration — Glory to the Nation!" I have one of this deja vu - frost on my skin? No, something like chants: "Sasha - to Rush!" and statements by the "fighters" about their readiness, "despite Lukashenko's every position ... to fight to the end for his independence," there are, however, the main enemy is not his own president, but the Russian one. Which, in fact, seems to be required by Alexander Grigorievich. And now, after returning from completely unsuccessful negotiations in Sochi, even the most inveterate "national patriots" would have nothing to "present" to him. Sovereignty defended, gracious father! With such good deeds, they will be accepted into the ranks of the "zmagars" and the "Old Man" himself. Why not, if in Russophobia he looks like that, he will surpass the whole "opposition"? In light of the parliamentary elections held on the eve of the country, as usual, as usual, and the head of state's statement of intent to nominate his own candidate for the next presidential term, perhaps this is what he is aiming for. In any case, to transfer any protest "shooter" from oneself, beloved, to "threatening occupation" Moscow.
There is one more point, perhaps even more important. The budget deficit of at least 1% of Belarus's GDP, laid down in the country's main financial document for next year, is a consequence of Minsk's inability to negotiate with Moscow. The "tax maneuver" in action, which in reality gives Belarus exactly the very "equality" that its president so hotly ranted about in Sochi, threatens to make a serious breach in the treasury. And here already the discontent of citizens can become much more serious and result in protests that will not be current. That is why Lukashenko is so diligently hammering a simple idea into the minds of Belarusians: "Russians are to blame for everything!" We'll have to raise taxes, prices will skyrocket, living standards will drop — all claims to the Kremlin. Again, in the most thorough way, while promoting the theme of the possible "loss of independence and sovereignty" of the country, the current president is trying to convince his own people that he and only he is able to defend them. In a word, "no one except Lukashenko!" And no matter how uncomfortable you are with him, without him darkness and dark horror will come. Simple tactics, however, often prove to be very effective. It is only doubtful that it will work in this situation. And the point here is not so much in the internal Belarusian "alignment" as in the ongoing global geopolitical confrontation. As practice shows, all the post-Soviet countries that begin to play Russophobic games are "devoured" by the West as a whole. Even without the notorious "horns and legs" in the balance. Such is the time, such is the life.
Three games - one goal. And one outcome ...
Obviously, without realizing this, Lukashenko, almost one-on-one, repeats the policy of Viktor Yanukovych, which he himself spoke about at one time without the slightest reverence. The same flirting with the "national democratic forces" - if anyone does not know, then the infamous "Freedom" of Tyagnybok and Farion not only existed thanks to the connivance of Yanukovych, but also was funded at one time from sources close to him. Viktor Fedorovich associates decided, you see, to create a kind of electoral "scarecrow", but they did not calculate their strength. And the habit of trying to get more and more economic "bonuses" from Moscow with the help of hysterical threats "to leave for the West" is absolutely from the same opera: "Don't want to give cheap gas? We will sign an association with the EU! " As a result, Kiev, it seems, received from Russia everything that it wanted and even more, but it was already too late. Or Alexander Grigoryevich forgot that the bloody "Maidan", which ended with a coup and the collapse of the country, began in Kiev precisely with the very few and quite peaceful speeches "against integration with Russia" that these days, with his direct connivance in Minsk ?! The Kremlin will probably remember this, and therefore it is unlikely that they will risk repeating the mistake of issuing multibillion-dollar loans to the state, which has turned into an enemy and, moreover, arrogantly refusing to return them. And this is absolutely correct.
Belarus has been able to "cook in its own juice" for over two decades. To live quietly, peacefully, moderately satisfying and comfortable. All the games that its leader plays today have as their goal the preservation of this wonderful life, and most importantly, their own situation. I admit that Lukashenko does not crave power for the sake of power, but tries to act according to the formula: "Stop, a moment, you are wonderful!" Alas, those times when something like this was possible finally and irrevocably ended in 2014. Now it's a completely different time, all the more distinctly smelling of steel and blood. And for countries that have long proclaimed themselves allies of Russia, it is time to make not a declarative but a real choice: either to stand shoulder to shoulder with it, or to move into the camp of the "non-brothers," with all the consequences. Our country can no longer afford the financing of the economies of states that, being completely dependent on it, nevertheless, rush with their "sovereignty", like an old maid - with withered innocence. Nobody is going to include Belarus in the Russian Federation, but to continue to coexist further with it on the principle: "Friendship" - friendship, and oil - apart, "is also impossible. In the end, there is the Donbass, which, there is such a feeling, Russia will soon have to save. Perhaps a very expensive price. But there, at least, people die under the Russian flag, and do not burn it, as was done yesterday in Minsk. With all his "games", Lukashenko is pushing the country to repeat the fate of Ukraine, since Belarus has no other way, abandon its course towards integration with Russia, simply.
I want to believe that this still will not happen. In the end, a new meeting of the presidents should take place on December 20. It would be good if Alexander Grigoryevich arrived not to play for her, but to fulfill those obligations that were accepted by him when signing the Union Treaty in 1999.