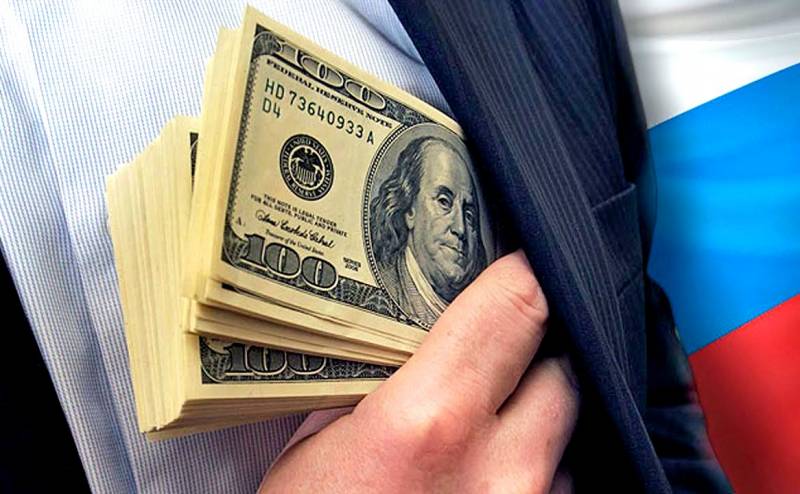 Why in our country do bridges "dance" and the newly constructed roads erode after the first rain? Why in the poorest subsidized regions do local officials and law enforcement officers live in palaces that King Croesus would envy? Why does any large-scale construction carried out on budgetary funds begin to skyrocket in price, sometimes growing at times the price from the original?
The answer is simple. Corruption. In the first eight months of this year alone, according to the Ministry of Internal Affairs of the Russian Federation, 102 billion rubles were stolen. The total number of detected corruption crimes during this period exceeded 18 thousand, of which over 5 thousand were committed on a large scale and especially large. Real numbers of thefts can be much higher.
Budget funds are stolen, those that were supposed to go to the social sphere, infrastructure, defense, salaries, pensions. They steal from us, fervently, storing the stolen money not even with suitcases, but with whole rooms. Who and how "encloses" the Russian people?
The most interesting thing is that all these schemes have long been widely known, which, however, does not guarantee a successful counteraction to them. We list the most basic ones.
Overestimate of value
The construction of stadiums, houses, roads, bridges, pipelines and other infrastructure is the most "money sector" for corrupt officials. You just need to overstate the cost of work and / or building materials, and those in charge can turn a blind eye to this for the corresponding "gratitude". In the most cynical cases, budget money is transferred for work that was not done at all, but passed "on paper" and was accepted by "understanding" officials.
Government procurement
At present, they "fight" corruption in this area, but it turns out far from always and not everywhere. The supplier who won the state or municipal tender may unexpectedly have family or friendship ties with the customer. In such a situation, honest entrepreneurs who are trying to get into this business have nothing to "catch". An objectionable company is simply screened out, because the task is written for a specific, "right" performer.
Fictitious employees
Sometimes it happens. Officials can hire a fictitious employee for a good salary with bonuses. All funds transferred to such a "virtual employee" are assigned by them.
Bad movie
You wonder why domestic films are simply impossible to watch? This is a direct consequence of corruption. For all this, with the permission to say, cinema, "right people" are allocated state funds that "roll back" what is supposed to, and "master" the rest. For the remaining pennies, frank rubbish is removed for show. A considerable part of such "masterpieces" does not even reach rental.
Housing and utilities
Only the lazy did not hear about corruption in this area, since it concerns everyone and everyone. The money collected from us is often instantly transferred to offshore companies, and overhaul and other services are carried out only "on paper".
Someone may say that in Russia they always stole, and not only in our country they steal. And it is true. But due to corruption, not only our money is stolen, which would go to the same pensions and salaries, but the very quality of the cases under which they are issued also suffers.
For example, by the APEC summit in the Far East, a total of 700 billion rubles had been allocated for infrastructure development. The road built for the event, which cost 29 billion rubles, was blurred after the first rain. In the Khabarovsk branch of "GiprodorNII" they commented on this as follows:
The design decisions for the drainage by the contractor have not been implemented. They are ignored. Workers either did not have time to drain, or forgot.
Ignored, did not have time, forgot ... It is good that the road lasted until the end of the international event, otherwise shame would be raked. According to official figures, 12 billion rubles have already been stolen at the Vostochny spaceport, only President Vladimir Putin personally complains to someone. They steal at Roskosmos, as the Accounts Chamber directly speaks of. And despite the fact that the state corporation, to put it mildly, is not happy with the results.
You can list known corruption scandals for a very long time. The main thing is that they steal billions from us and are not going to stop.