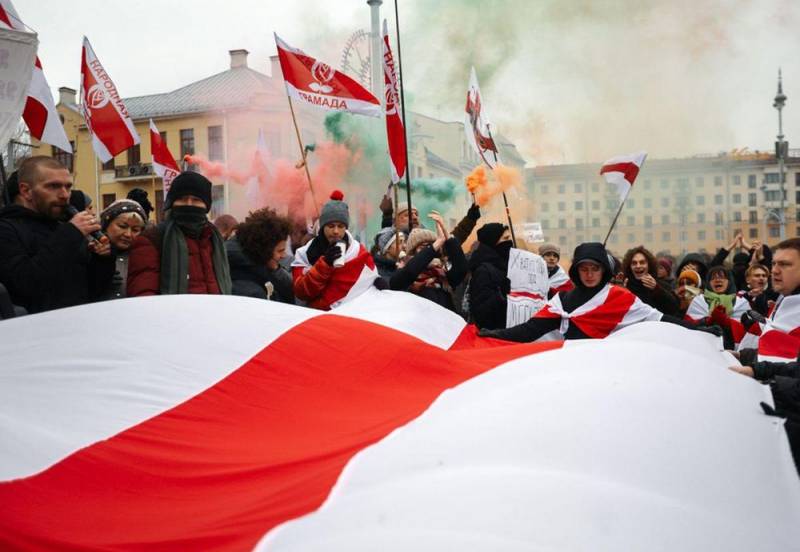 On December 7, 2019, protests of pro-American patriots, Russophobes, "guest performers" from Ukraine, Georgia, Poland and the Baltic countries, who imagined themselves to be "bialaruss", and nationalists of the local spill began in Minsk. Their goal is to prevent the deepening integration of Belarus and Russia. So now those weird ones become clearer
statements
that the President of Belarus Alexander Lukashenko has done over the past few years. After all, this aggressive, but small audience, can be used for a long time as an instrument of influence on Moscow, and not just as Western pressure on Minsk.
All kinds of "human rights defenders" and various NGOs broadcast from the capital of Belarus that about 700 people took part in the protests. For clarity, we must immediately clarify that 2 million people live in Minsk. That is, the residents of the "capital of the nation" really have a chance to see this event, which even small children and disabled people were brought to.
Those who disagree with the deepening of integration staged several actions. Some lined up in a "living chain", others gathered in the square in front of the Palace of the Republic. The police did not touch anyone, but reminded that these events were illegal and suggested that everyone disperse. At the same time, residents of Minsk passing by were repeatedly interested in both law enforcement officers and protesters, which, in fact, was happening in their city. Many often could not understand what was written on the posters of "the color of the nation."
The most memorable moments were three. The first is that the audience shouted not only the standard "Long Live Belarus" and "Glory to the Nats", they also insulted the police with "fascists". However, law enforcement officers did not use force to undress the "anti-children" and demonstrate their tattoos with the symbols of the Third Reich. The second memorable moment was the attempt to storm several dozen of those who "came in large numbers" of the Palace of the Republic, on the steps of which the police were located. It is not difficult to guess that the undertaking to seize the administrative building was unsuccessful. In a brawl, the police were stronger. The third point was the demonstrative (on camera) tearing apart the portraits of Russian President Vladimir Putin by protesters.
As a result, most of the protesters dispersed, and the "come-together" decided to stay overnight in the square in order to wait for Lukashenko to return from Sochi and to announce the results of his negotiations with Putin.