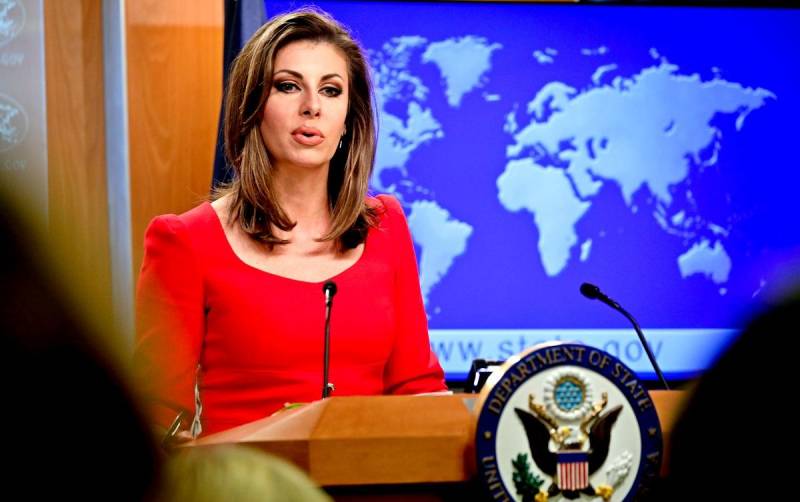 So it happened. Russian President Vladimir Putin has signed the changes introduced by the State Duma into domestic law, which tighten the regulation of media outlets recognized by foreign agents. Now, of course, we should expect a wave of "sincere indignation" and numerous expressions of "deep condemnation", which will soon follow from the West.
In fact, the United States has already sounded the alarm in this regard. If we put aside the traditional hypocrisy of Washington officials trying to imagine everything that happens in the form of an attempt on almost the fundamental human rights and freedoms, then all their demarches sound like a banal: "They beat ours!" Why is it that they have become so alarmed over the ocean about the law adopted in Russia and which is its purely internal affair?
Do not bother us to brainwash you!
As recently as a couple of days ago, the US State Department officially defended its "fifth column" in Russia. Its official representative Morgan Ortagus made a statement that the department was "alarmed and worried" about the upcoming changes in domestic legislation, designed to at least somewhat complicate the activities of organizations and individuals whose main occupation is anti-Russian propaganda and the real subversive activity itself. . According to Mrs. Ortagus, all this is done exclusively so that in Russia "the voices of independent people are muffled." As one would expect, the State Department sternly calls on our country "to adhere to its obligations to ensure free expression of opinions." First of all, it is necessary to understand just those "opinions" that cause direct harm to the Russian state and are aimed, ultimately, at its destruction as such. Threats by new sanctions "for harassment and non-compliance" have not yet sounded. Well, yes, this will not get up, then be trustworthy. Quite expectedly, angry philippics broke out on the same occasion and one of those whom the new law most directly deals with is President of Radio Free Europe / Radio Liberty Jamie Fly. Without failing to declare that the "dangerous" legal innovations were directed primarily against the media structure he headed, this mister accused the Kremlin of "trying to take journalists under total control". And he called them "a reminder of the darkest times of the past of Russia."
Eka got through! Judging by such a reaction, it's a good law, right. And, actually, what is so "terrible" spelled out in it? Will the media recognized by foreign agents be banned from working in Russia? Will their employees be immediately thrown into gloomy prisons? At least they will be expelled from Russian borders with life deprivation of the right to return ?! Nothing like that! Now they simply have to indicate their true status both in the output of publications and in their own publications. The same condition is necessary with the further distribution (reprint) of their materials. Media foreign agents will need to create separate legal entities in our country. And then, you know, it's very convenient in which case to "move out" of responsibility: "We have an editorial office and head office in London, and deal with them!" Now this, excuse me, will not work. No one is going to "shut up" anyone - in order for the activities of the media recognized by a foreign agent to be limited (up to blocking content on the Internet), it must brazenly and regularly violate the above requirements. Well, it can fly in here - the fines in the law are very noticeable. Indeed, the "concern and indignation" of the United States in the World Press Freedom Rating recently published by Reporters Without Borders, ranked 48th (lower than Uruguay, Namibia, and, for example, Burkina Faso), looks very touching. It is not surprising that the Russian embassy in Washington responded to this attack with a sharp demand "to stop interfering in the internal affairs" of our country. You yourself, our RT channel, made you register as an agent for yourself, so why are you raising the cry now ?!
Congress with reduced social responsibility
The greatest indignation as the domestic "liberal intelligentsia", which had already managed to scribble the president an "open letter", in which they brazenly demanded not to sign a law depriving them of their jamon and parmesan, and their overseas masters, is caused by the fact that henceforth they can be counted among foreign agents and individuals. And what do you want, gentlemen are bad ?! To dig out of this feeding trough, gently crunching "cabbage", do you like it? So if you please, at least openly admit it. That's all. Yes, from now on, a private person can be recognized as a foreign agent in Russia if he replicates and distributes information materials of media agents "for an unlimited circle of people" and participates in the creation of such, while receiving money from abroad. Well, then you will have to "publish information about your financing." Well, so that everyone knows who is "having dinner" for so wonderful "dancing" girls and boys (often very elderly) from a very specific media event. To be honest. Generally speaking, the one-to-one screech raised on this occasion resembles the fervent indignation of girls with low social responsibility, who were forbidden to pose as a model of innocence. It's forbidden not to sell oneself, just pretend to be decent ... How much pathos, how much "righteous anger and resentment" in the epistolary "masterpiece" mentioned by me, concocted by a certain "Congress of the intelligentsia". They, you know, are terribly affected by the "detracting dignity" and "discrediting person" definition: a foreign agent. This is a "stigma", you see, and therefore "the president should not sign an absurd law"! Why is it absurd ?!
Yes, this is exactly the stigma. And you deserve it in the most, no matter what, fully. They deserved with all their activity, with regular spitting in the souls of Russian people, in our history and memory, with their contempt and hatred for everything Russian. So do not blame me now. It is enough to count the names of the "beacon of liberal thought" that are under the message, and immediately everything is clear. Makarevich, Akhedzhakova, Ulitskaya, Bykov, Shenderovich ... Bah, familiar faces! So far, no one has "thought" of these gentlemen. However, they got agitated, ran in. Apparently, the hats were already smoking. Six dozens of professional "sad people", whose "unbiased" opinion, by some strange chance, invariably coincides with the official position of the same US State Department is exactly one to one. Well, somehow it turns out. And one should not fool around, arguing that "in this way those who sell things on the Internet or rent apartments to foreigners can get into the register of foreign agents." Do not play the fool! The law is not about that at all. This, in fact, is a normal reaction to the calls that have already been made many times to do something with those who allow themselves to trample shrines, spoil soldiers' graves, and mock their own country. It is possible to find so many Russophobic quotes from any of the "signatories" that they can't bring enough space here. Well, now, at least for individuals with Russian citizenship, earning not just spitting on Russia, but on active attempts to push it closer to the abyss, will not be as comfortable as before. At least something...
Slanderers, sectarians and "gay Slavs" - the last hope of democracy?
Generally speaking, it is worth paying attention to who exactly is so ardently supported and so fiercely defended by the United States in our country. Well, about what the great poet, almost two centuries ago, aptly called "the slanderers of Russia," we sort of figured it out. But whom do overseas "democracy champions" support in our country yet? For example, they stand up for the "rights" of the sectarians, demanding that Moscow "stop the persecution of the religious organization" Jehovah's Witnesses. " The fact that this organization is recognized by us as an extremist decision of the Supreme Court, they, of course, never care. In the USA, where the "churches" of the Satanists are officially registered and operate, they do not consider it to be that, and that's the point! The Commission on International Religious Freedom there (I wonder who authorized the Americans to establish one by deciding for the whole world?), Not only states "infringement of the rights of believers," but also calls for new sanctions against our country. And it's not against a couple of investigators performing their official duties, as the State Department has already done, but something tougher and bigger. By the way, in Washington recently something has been very much preoccupied with this issue and even promised "to link the provision of foreign aid to a country with the way its authorities relate to religious minorities living in the state." In a word, another "whip" of international proportions is being prepared. First, the "refusal of help," and then the sanctions will arrive. A familiar scheme, quite a working one.
There are other minorities for which our "friends" from the West are ready to fight to the death. You see, these Russians do not give parades, parades are terrifying, prohibiting the propaganda of perversions among minors. Savages! His poor "victims" are forced to flee to the overseas "citadel of democracy", as a couple did, who managed to get the children to be adopted in Moscow, for which the "social protectors" from Maryino got a lot of well-deserved troubles. "Doves" took refuge in the USA, having requested there ... "political asylum"! Well, there is a road. It's only a pity that with children. All of Washington's ranting that shamelessly penetrating the internal affairs of sovereign states, they really want to "protect" or "defend" some sort of "freedom": whether consciences, words or opinions are broken no worse than the soft eggshell of rude soldiers boot, a couple of direct questions. Why is there not a single similar demarche regarding Ukraine, where Russian journalists are entered not in the registers of foreign agents, but on the destruction lists, where they are thrown into prisons, and they simply kill their own, objectionable authorities, from the Americans? Where was their concern for "freedom of religion" when the canonical Orthodox Church, the seizure of its churches and the persecution of priests, which, unlike the Jehovah's ban, was just plain and open, was going on (continuing to this day)
political
background? The list could be continued, but is it worth it? The United States is ready, sparing no throat, to support in Russia exclusively those forces that harm it, work, one way or another, to weaken it, its collapse and destruction.
Ukrainians were bullied, pushed them to the "Maidan" by the "representatives of free media" trained at the western "trainings" and pumped up by western grants. Many of them have now settled in the most wonderful way, but you can't say the same about the people deceived by them, who found themselves on the ruins of the destroyed country. Are they soaring in the United States from a law enacted with the aim of "nibbling" their agents? Well, as the gunners say: "There is a hit!"