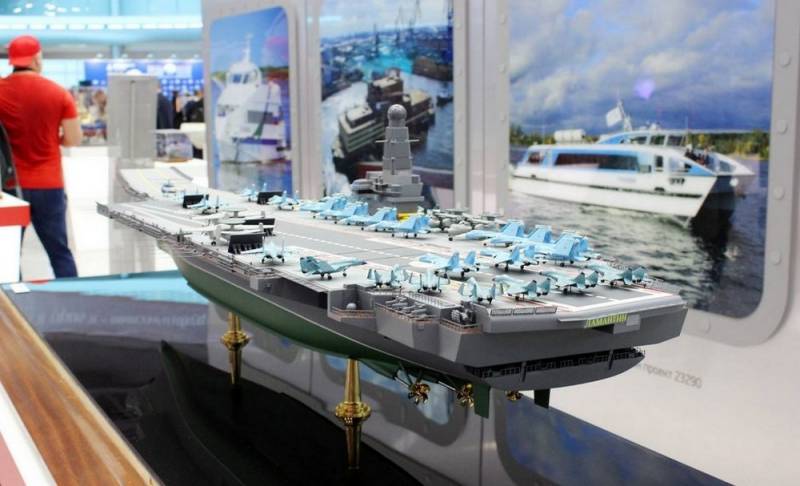 Despite the fact that the construction of a new aircraft carrier is not provided for in the current State Armaments Program, which is valid until 2027, the Russian Ministry of Defense is considering existing projects of ships of this type.
As the
RIA News"
citing its own source, in the military-industrial complex, according to preliminary estimates, the development and construction of a new aircraft carrier can cost the state budget 300-400 billion rubles.
According to the source, to date, the projects of a promising Russian aircraft carrier have provided two enterprises - the Nevsky Design Bureau and the Krylov Scientific Center.
Designers from the Nevsky Design Bureau presented the design of the Lamantin aircraft carrier with a displacement of 90 thousand tons, on which about sixty aircraft and about ten drones can be based.
At the same time, the project of an aircraft carrier developed by the Krylov Scientific Center, with the same displacement, has a length of 300 meters and is capable of carrying 90 aircraft, including UAVs.
Currently, the Russian military department has not decided which of the proposed projects will be taken as the basis for the future aircraft carrier.
According to the former commander of the Baltic Fleet of the Russian Federation, Admiral Vladimir Valuev, an aircraft carrier would be in demand in the Russian Navy, however, its creation is costly and not included in the priorities, since it entails not only the construction of the ship itself, but also the construction of a number of ships, including in its support, which makes the project even more expensive.