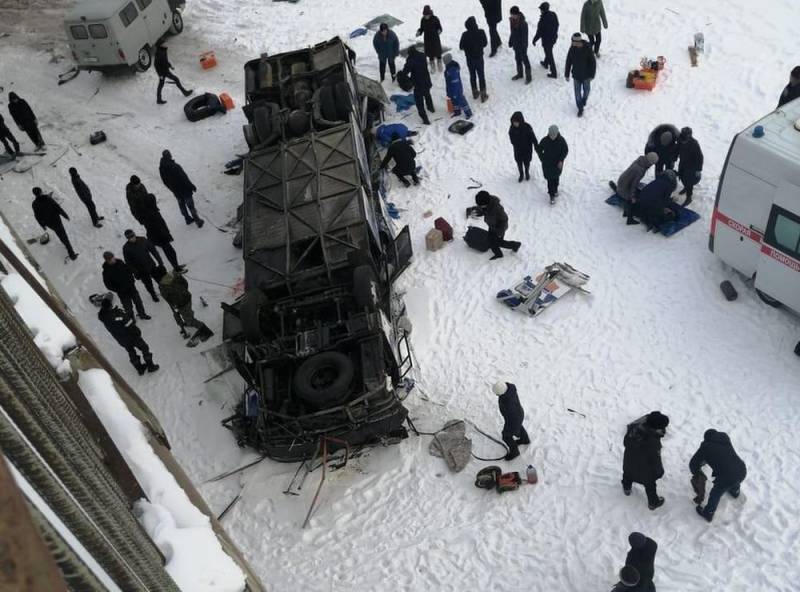 On December 1, 2019, in the Sretensky district of the Transbaikal Territory, near Kuenga station, the KIA Grandbird tourist bus, moving from Chita to Sretensk, crashed from a bridge onto the ice of the Kuenga River. There were 44 people on the bus (43 passengers and 1 driver).
This happened on the 60th kilometer of the Mogoytuy - Sretensk - Olochi highway. The deaths of 21 people, including two children, are currently known. Five ambulance crews, police and rescuers work at the scene of the tragedy. A helicopter from the regional center for disaster medicine was sent to the scene of the tragedy.
The cause of the incident is the broken front wheel of the bus. The rescue operation is complicated by the fact that the bus lies on ice and heavy
machinery
it is simply impossible to fit, as it, together with the bus, may fall under the ice.
The Governor of the Trans-Baikal Territory Alexander Osipov has already flown to the scene of the tragedy in a second helicopter, together with the Minister of Health of the region Valery Kozhevnikov. The Investigative Committee of Russia (TFR) opened a criminal case under part 3 of article 238 of the Criminal Code of the Russian Federation ("The provision of services that do not meet safety requirements, resulting in the death of two or more people"). According to preliminary data, the bus belongs to an individual entrepreneur (IP), which is engaged in tourist transportation. The Main Directorate of the Ministry of Emergencies for the Trans-Baikal Territory opened a hotline by calling 8 (3022) 356161.