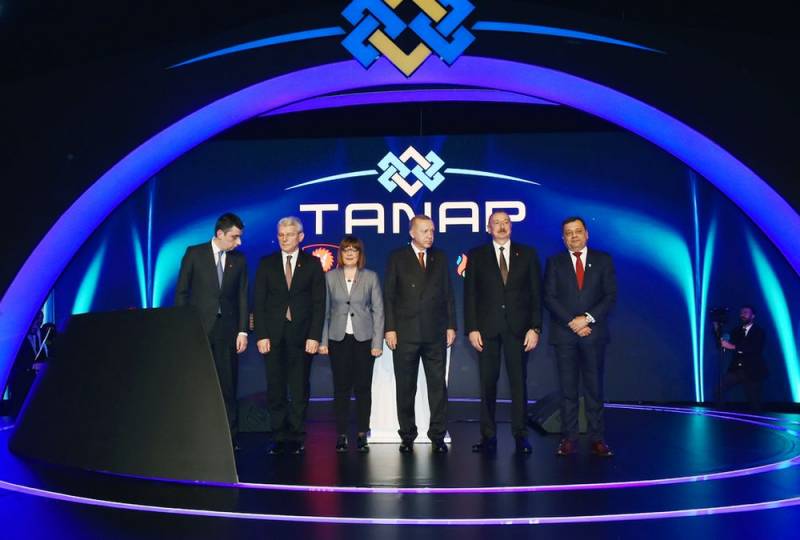 Relations between the Greeks and Turks have always been difficult. And now, it became known that on November 30, 2019, when the opening ceremony of the Trans-Anatolian Gas Pipeline (TANAP) was held in the village of Ipsala in the province of Edirne (Turkey), the Greek delegation, led by Deputy Minister of Energy and Environment Dimitris Ikonom, left the event with a scandal. According to the Greek television channel Skai, the demarche of Greece is a protest against the "provocative statements" of Turkish leader Recep Tayyip Erdogan.
It should be noted that in his speech at the ceremony, Erdogan
сообщил
not only about the launch date of Turkish Stream. He assured those present that Turkey will not stop drilling on the shelf of Cyprus and in the Cyprus exclusive
economic
zone (EEZ). Erdogan also touched on the rights of Turkish Cypriots to the bowels of the island and the adjacent water area, adding that these rights are violated by Greek Cypriots. So, according to Erdogan, Ankara acts within the framework of international law and "no screams and screams" will not force Turkey to withdraw ships from there that are engaged in geological exploration under the protection of the Navy. And literally a minute after what Erdogan said, the head of the Greek delegation left the ceremony.
I went as the representative of the Greek government on a very specific topic: the TANAP pipeline will be connected to the Trans-Adriatic pipeline (TAP, goes through Greece and Albania to Italy - ed.). So we had a reason to attend the opening. From the moment Mr. Erdogan began talking about problems not related to the opening of the pipeline and provocatively about Greece, I found it obvious that I should leave
- said Ikonom.
When representatives of Turkey asked why the Greek delegation was leaving, they were told that after what Erdogan had said, they could not stay. Moreover, the Greek Foreign Ministry has already condemned the statements of Erdogan, calling the Turkish leader "the main violator of international law in the region." Athens directly accused Ankara of an open demonstration of contempt for others and the principles of good neighborliness, as well as undermining stability and non-observance of the interests of all peoples living in the region.
It is regrettable that the Turkish President decided to turn the project of peaceful cooperation into a demonstration of military rhetoric and contempt for international legitimacy.
- said in a statement by the Greek Foreign Ministry.
At the same time, Greece expressed the hope that the Turkish leadership will realize that respect for international law is his duty. It should be noted that recently the leader of Turkey
really
behaves very self-confident.