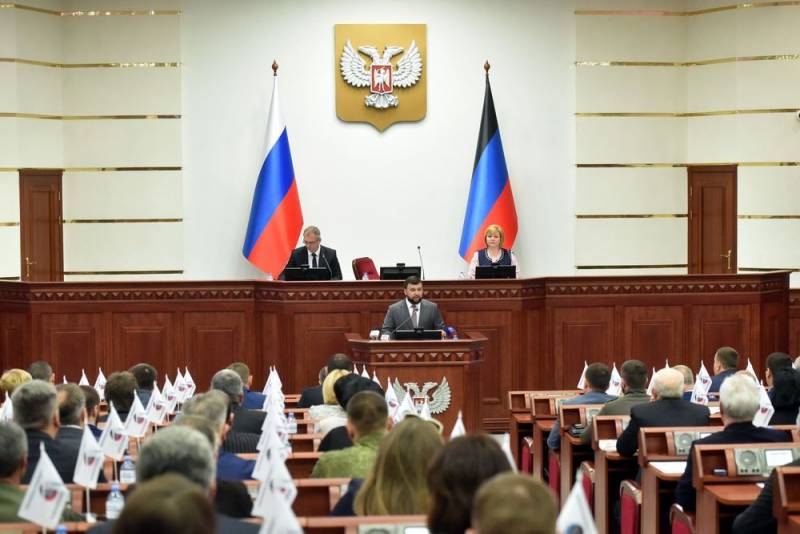 On November 29, 2019, some media outlets came under screaming headlines that the Donetsk People's Republic (DPR) allegedly "expanded the border to the entire Donetsk region." As a result, it turned out that on that day, deputies of the People's Council (NS) of the DPR adopted the law "On the State Border of the Donetsk People's Republic," which establishes the borders of the DPR within the border of the Donetsk region of Ukraine.
The bill was developed by the efforts of the National Security and Defense Committee along with the Ministry of State Security (MGB) of the DPR. Now the adopted law should be signed by the head of state and it will come into force from the moment of publication on the official website of the National Assembly.
It should be noted that this law determines the procedure for the protection and protection of the state border of the DPR. It forms the legal framework of the DPR regarding the border
policy
and determines the powers of state authorities.
The President of the National Assembly of the DPR, Vladimir Bidevka, has already explained to reporters that this law allows "not to forget about those people" who live in the territory controlled by Kiev. He specified that until the conflict is resolved, the border will go along the line of contact.
In turn, we want to recall that on April 7, 2014, after the Maidan in Kiev and the change of power in the country, the Donetsk People's Republic was proclaimed within the territory of the Donetsk region of Ukraine. On May 12, 2014, after the referendum held on the eve of the referendum, as well as on the basis of the sovereignty declaration of April 7, 2014, the independence of the DPR was proclaimed.
Since then, in all state institutions of the DPR there are stands on which the republic is shown within the Donetsk region of Ukraine. Therefore, we don't quite understand the intonations of some media and officials, because in Donetsk they dragged more than five years with the adoption of this law and the specified border did not get any closer.