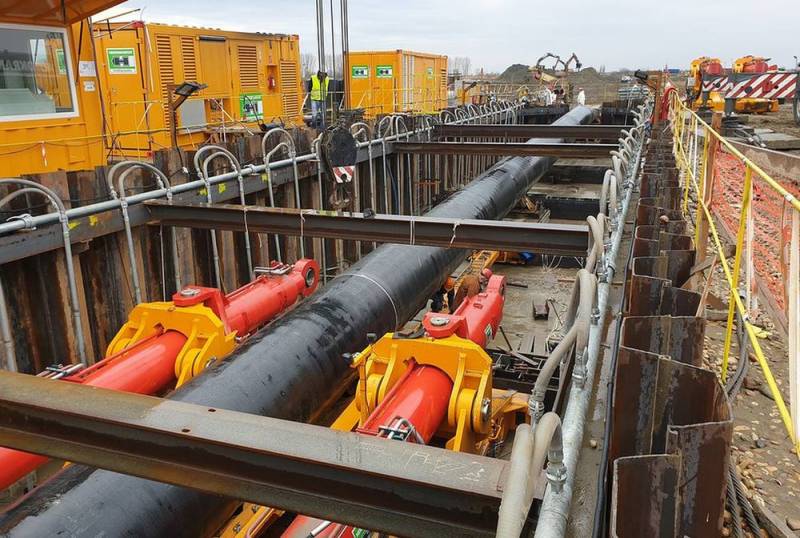 Recently we
Reported
that both lines of the Turkish Stream gas pipeline are filled with gas (raw materials). And now, the head of the production and technical department of IDC (Infrastructure Development and Construction, general contractor for the construction of the Serbian section of the Turkish Stream gas pipeline) Evgeni Ulrich told media representatives that the builders, having set a record for the speed and complexity of construction, have already built a section from the border with Bulgaria to the border with Hungary.
The company representative noted that the company's employees made more than 500 joints (6 km) daily. In total, in six months, more than 400 km were laid. At the same time, the complexity of the construction was represented by a section of the gas pipeline (transition), which runs under the Danube. But the builders coped with the task, breaking another record.
During the work, the builders faced a number of difficulties due to the difficult geological conditions under the Danube, where coal layers met. Despite this, the passage was completed in 32 days. Implemented <…> by the Direct Pipe method under the Danube River in the Republic of Serbia, the 1402-meter underwater crossing became the third longest in the world (the first is New Zealand, the second is the USA), and the first in Europe. Thus, in Serbia, a European record was set for construction using the Direct Pipe method through water obstacles.
- explained Ulrich.
Now the Serbs are waiting for gas to come from Bulgaria. Then the Serbian site will be commissioned. It will pass 12,87 billion cubic meters through the territory of Serbia. m of gas per year. In turn, the Bulgarians only recently, in October 2019, announced that they were starting construction of compressor stations for the Bulgarian section of the Turkish Stream gas pipeline (474 ​​km long), the construction of which had not been carried out before that time due to various obstacles.