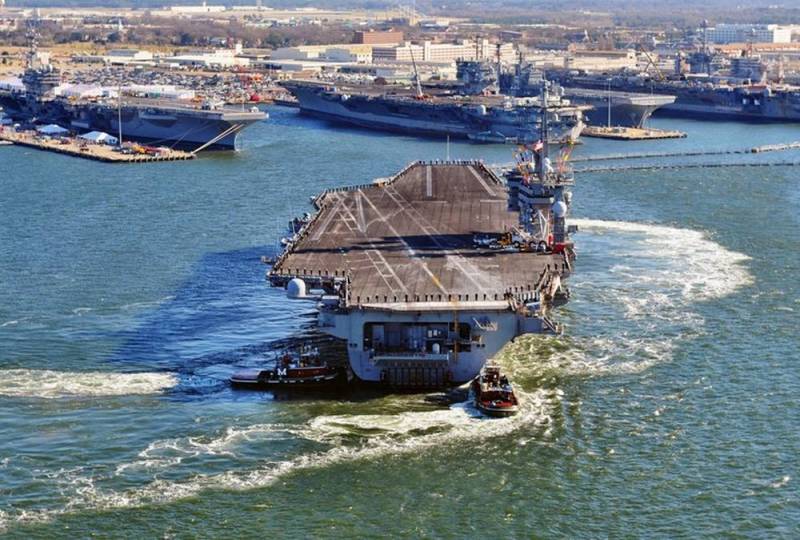 From the open data of the US Navy, it became known that currently all six nuclear carriers located at the Norfolk Naval Base (the main naval base of the entire Atlantic fleet on the US East Coast) are not able to go on a long voyage. These ships are either in lengthy repair or in scheduled maintenance, which takes more than one month.
It is noted that the only conditionally combat-ready nuclear-powered aircraft carrier "Harry Truman" (USS Harry S. Truman, CVN-75), which was sent to the Middle East, hurriedly returned to the base in connection with problems in the electric networks. He had to make his campaign in the summer, but then he just did not have time to bring the desired state.
So the schedule for the presence of US nuclear carriers in the carrier carrier strike group (AUG) in different parts of the world was hopelessly broken. Now the U.S. Navy is feverishly trying to speed up repairs and are reviewing the scheduled maintenance of nuclear aircraft carriers.
It must be recalled that the United States has 11 nuclear carriers. Six of them: Harry Truman, Dwight Eisenhower, George Washington, John Stennis, George Bush and Gerald Ford, are located at the Norfolk Naval Base in the Atlantic. Four more nuclear-powered aircraft carriers: Abraham Lincoln, Theodore Roosevelt, Karl Vinson and Nimitz are located at bases on the US West Coast, while Ronald Reagan is permanently deployed at the Yokosuka base in Japan.