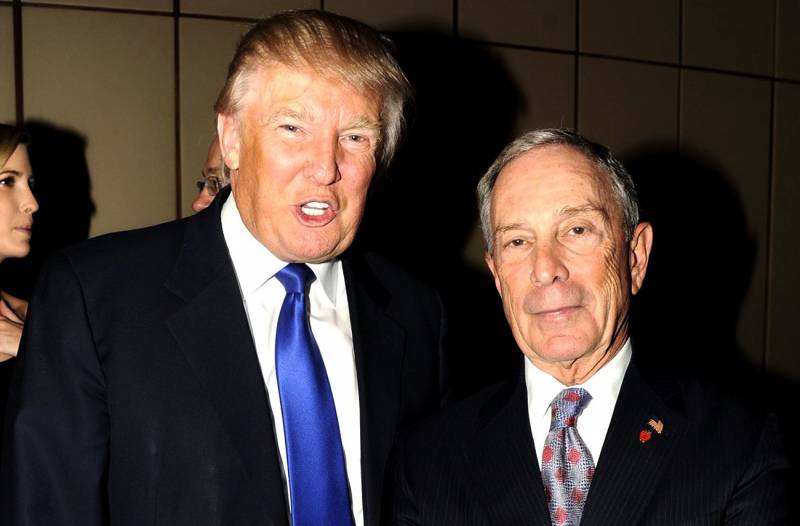 Another businessman with a fortune 2020 times greater, Michael Bloomberg, can compete in the presidential election in the US in 17 to businessman-president Donald Trump. Will the Democratic candidate, the former mayor of New York, put Trump on the shoulder blades?
At first glance, it might seem that the owner of 54 billion dollars Bloomberg can corny buy elections. The slogan of his presidential campaign, "Michael Bloomberg 2020. Restoring America," is clearly mimicking the rival, alluding to the fact that after Donald Trump, the US will have to be restored from ruins.
In part, this is true, the "imperial" Trump does indeed consistently destroy the global architecture built by globalists, which made the United States an unconditional "hegemon". But at the same time, the president began to defend the national interests of his country, returning industry that was brought back abroad by transnational corporations. Started to grow
economy
, wages are increasing. American society has divided against the odious president: some warmly support him, others sharply condemn him.
Against his background, Michael Bloomberg, as a candidate, looks very decent. He is fabulously rich, a prominent philanthropist, was a very successful mayor of New York, the financial capital of the world. However, there are a number of factors that can lead to his defeat from Trump.
At first
, against his own sake, his incredible wealth can work. 54 billion dollars in one hand - this is enough for the banal black envy of both the potential voter, who is struggling to make ends meet, and his rivals in the Democratic Party. Here is an eloquent statement on this subject by Senator Elizabeth Warren:
Elections should not be sold - to billionaires or corporate bosses.
Yes, Trump is a billionaire, but one Bloomberg is worth 17 Trumps.
Secondly
, Michael Bloomberg showed himself to be a very smart person, even too much. He managed to visit both the Democrats, and among the Republicans, and independent. Now he is again a democrat. Like
political
omnivorous people still remember him.
Thirdly
The features of the American electoral system require the support of candidates in certain states to win. Some rednecks from Alabama, southerners from Louisiana, or cowboys from Texas would rather vote for Donald Trump than for Michael Bloomberg, since the first had already become "their" for them.
Fourthly
During his reign in New York, Bloomberg managed to incite smokers, gun owners and "colored" minorities against himself, as they became victims of his campaigns against smoking and street crime. He offended women, calling them "weaker sex."
Fifthly
, for a dangerous rival, his Democratic colleagues have already taken up. Senator Sanders assented to Elizabeth Warren, stating:
I hate the thoughts of Michael Bloomberg or any other billionaire who think they can get around the political process, spend a dozen or two billion dollars and buy our election.
For comparison, only 2,3% would vote for Bloomberg today, 18,5% for Warren, over 19% for Sanders, and almost 30% for Biden.