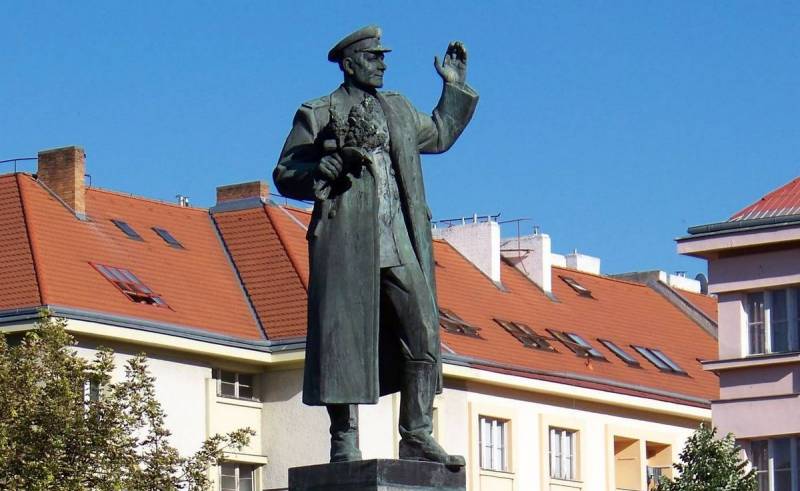 The head of the administration of one of the districts of the Czech capital stated that he was considering the possibility of replacing the monument to Marshal Konev with a monument to General Vlasov, who served the Nazis.
According to the head of the Prague-6 district, Ondrzej Kolář, where the monument dedicated to the Soviet Marshal is located, Konev is guilty of "personally supporting the conduct of information intelligence before the Warsaw Treaty invasion of Czechoslovakia."
After his opinion was approved by the Czech military-historical institute, the corresponding inscription was put on the monument to Marshal Konev.
The argument of the district warden in favor of replacing the Konev monument with a monument to Vlasov is based on the fact that the Vlasov people took part in the liberation of Prague from the Nazis.
At the same time, the Czech official completely ignores the fact that the fleeing Vlasovites fought with the Wehrmacht units in Prague solely because they stood in their way to the American zone of occupation.
It is also known that breaking through the city, Vlasovites, despite the requests of the townspeople, left the inhabitants of Prague face to face with the Nazis who were left there, who were knocked out only two days later by the coming units of the Red Army under the command of Konev.
Thus, Colarges belonging to the cohort
politicians
educated in the USA and promoted by Washington locally, is going to rewrite the history of the Czech Republic and, first of all, remove from it everything connected with the Soviet Union and Russia.