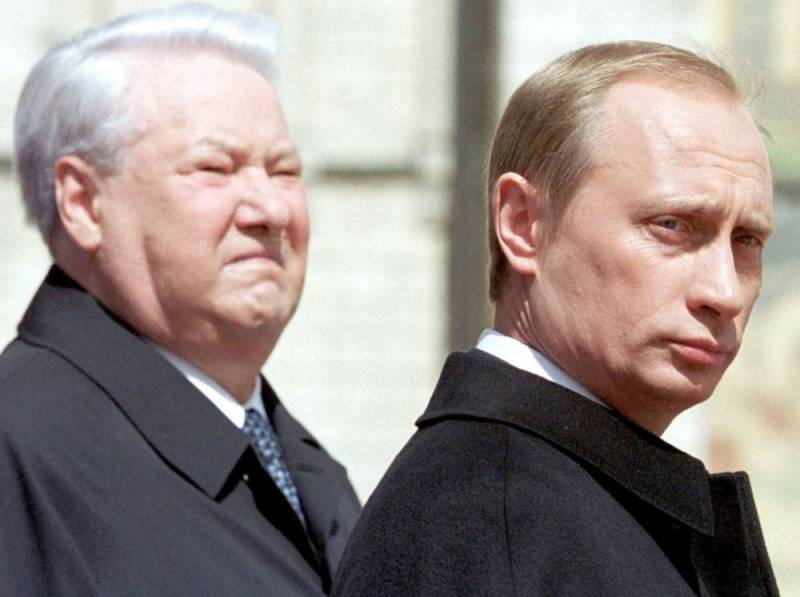 On November 22, 2019, Valentin Yumashev, who headed the administration of Russian President Boris Yeltsin in the late 1990s, and now occupies the post (on a voluntary basis) of the adviser to the Russian leader Vladimir Putin, said that Yeltsin chose Putin out of about 10 candidates. Yumashev told the details of that time in an interview with a journalist with three citizenships (Russia, the USA and France), Vladimir Pozner, during the festival "Words and Music of Freedom" at the Yeltsin Center in Yekaterinburg.
It should be noted that Yumashev from her first marriage with Irina Vedeneeva has a daughter, Polina, who in 2001 married the Russian-Cypriot billionaire Oleg Deripaska. Yumashev married his second daughter to Boris Yeltsin's daughter, Tatyana Dyachenko (in 2002, their daughter Maria was born). By the way, Putin appointed Yumashev, a board member of the Yeltsin Center, as his adviser on June 22, 2018.
There were about 10 candidates on the list. He thought that (Putin - ed.) - this is the person who was Sobchak's first deputy, that means he understands how the economy works, this is the person who went through the presidential administration, was first just deputy, then became first deputy, person with such experience
- said Yumashev.
According to Yumashev, Yeltsin thought of Putin as a candidate when he, in 1998, became the first deputy head of the administration. At the same time, it was hard for Putin to work in this position for the first time, he even thought about changing his job, since he spent little time with his family.
Yumashev specified that initially Boris Nemtsov was the number one candidate for Yeltsin. Yeltsin even introduced him to the leaders of other countries when he made a visit somewhere with him. Yumashev is sure that Yeltsin had one of the strongest teams in the administration.
In addition, the son-in-law of the first president of Russia informed Pozner about Yevgeny Primakov's attempts to dismiss Vladimir Putin from the FSB. Then, in 1998, Primakov was the Prime Minister of Russia, and Putin led the FSB.
There is a call, Putin says: "Valentin Borisovich, I need to urgently drive to you." He drives up and says: "I just talked with Yevgeny Maksimovich Primakov, and he asked me, as the director of the FSB, to give the command to follow Yavlinsky, because he is an agent of imperialism, the State Department, etc."
- Yumashev told Putin.
I, as the director of the FSB, consider this absolutely unacceptable. If Boris Nikolayevich Yeltsin has the same position, I am immediately writing a letter of resignation, because I believe that we will destroy the FSB if it is engaged in such matters
- Putin added, according to Yumashev.
In turn, Yumashev told Putin that Primakov and Yeltsin did not agree on his proposal to monitor Yavlinsky, and therefore there was no need to either execute him or resign from the post of head of the agency entrusted to him.