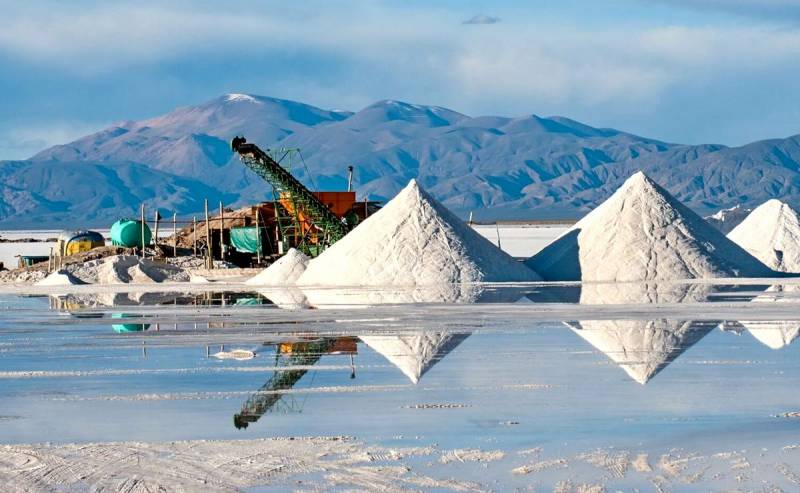 Bolivian President Evo Morales, who was ousted as a result of the coup d'état, finally directly stated the reason for the incident. The "Western Sheriff" intervened in the affairs of the Indians and drove their leader away because of the "despicable metal", namely lithium.
To be honest, the "Bolivian Maidan" was promoted by many internal factors, but they did not prevent the real Indian from ruling the country for 14 years. The last straw to break the back of a camel was the lithium question. What exactly is it about?
The ex-president bluntly stated:
When we completed the development plan for lithium production, Bolivia could begin to set lithium prices for the whole world.
It was the desire to dictate terms to Western corporations that became the fatal mistake of Evo Morales. The fact is that Bolivia, together with Argentina and Chile, make up the "Latin American Triangle," world famous for its lithium reserves. Bolivia is a recognized leader in proven reserves. Today, lithium is called the "metal of the future" due to the fact that it is widely used: from batteries of electronic gadgets to electric vehicles. Demand for this metal is constantly growing.
In 2009, the leader initiated the adoption of a new Constitution, according to which all the bowels of Bolivia were recognized as the property of its people, a national treasure. Many foreign companies expressed their willingness to invest in lithium mining, but President Morales was very picky. He concluded agreements with only two countries, China and Russia, which we
told earlier
.
By 2025, there were already 14 factories in lithium in Bolivia. By the way, Rosatom was supposed to start building the highest altitude nuclear power plant in this country, which provoked an unpleasant reaction in the former metropolis, Spain, where the idea was called "atomic delirium". President Morales also flew to Moscow to agree on the supply of Russian weapons. However, a coup d'etat put an end to this all.
Now the leaders in the supply of "metal of the future" are Chile and Australia. According to current forecasts, lithium demand will triple in the coming years. One of the factors is the growing popularity of electric vehicles, since their batteries require this metal 10 times more than in a smartphone, and 000 more than in a laptop. No wonder there is a joke on the Web that "Morales overthrew Tesla."
In any case, not a single self-respecting Western corporation will allow some Indians to dictate terms to themselves. Belatedly, Morales himself realized this:
Now I understand that some industrialized countries do not want competition.
The pro-Western presidential successor is likely to change the law and open Bolivian bowels to foreign companies. Knowing the methods of the "sheriff", one can expect that the cash flow from the sale of the metal will not spill over to the Indian majority, but to a narrow circle of persons involved. Capitalism.