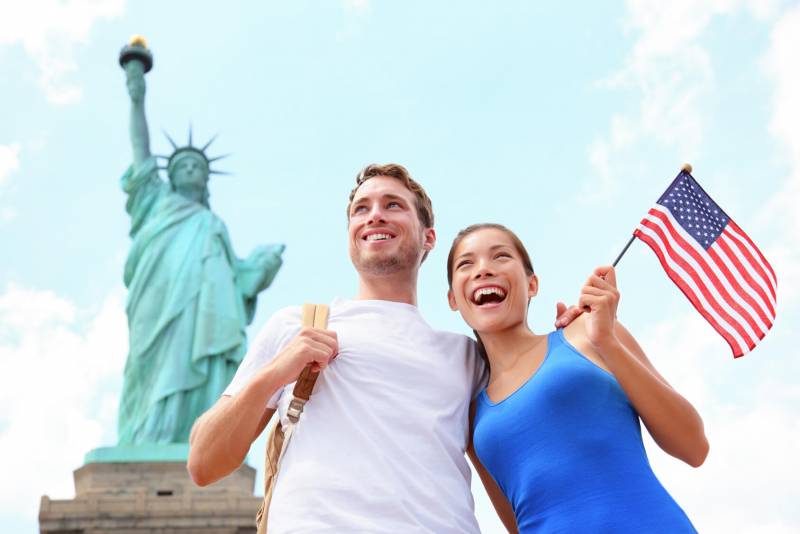 I don't know why, but articles where Russians talk about life in America or Americans share their impressions of Russia always attract the interest of the Russian reader. Although they appear on the Internet quite often, for some reason, this topic does not bother people.
I myself have never been to America, but I tried to analyze several stories of Russians living or residing in the United States, and to find something in common in them. Bring them, so to speak, to a common denominator.
Attitude of Russian migrants to America
In my opinion, all Russian migrants sharing their impressions of America can be divided into three groups. The first lived in the United States for several years, but could not adapt and returned to their homeland. The second managed to integrate into local life and become part of American society. Still others moved to the USA and stayed there to live, but terribly suffer from nostalgia, which is why everything American is annoying and infuriates them.
I took one representative from each group and compared their blog posts about America and Americans. Katya lived in the USA for five years, but returned to Moscow and does not want to leave anywhere else. Irina stayed in New York for about eight months. Basically, she likes everything, but there are features of life here that amaze. Anatoly has been living in America for many years, but could not get used to much, much here annoys him.
These people have different attitudes toward America, sometimes diametrically opposite. They have different views, besides they are not familiar with each other. But their stories about American life have common points. Let's consider them in more detail.
Americans don't take off their shoes at home
In Russia, it is customary to take off shoes and put on slippers when entering a house from the street. In the USA, houses go in the same shoes as on the street. Kate, this custom seems complete savagery. She is especially enraged when someone climbs into the bed in shoes or puts her feet on the table. The girl mentions the old Russian proverb: "Pig at the table - she and her legs on the table." She understands that in the USA, streets are washed four times a day, using special means (not every time, but often). And that people rarely walk, using personal cars and taxis. But still, she does not like the American habit of walking home shod.
Irina also mentions this aspect of American life, and it is also difficult for her to accept this custom. But, as they say, "in a strange monastery ...". Therefore, the Americans who come to her house, she does not ask to take off her shoes, because they can regard this as an encroachment on their freedom.
There is nothing more important than freedom
Americans see freedom as their most important asset. They are proud that America is a free country of free people. But this concept in Russia and the United States is understood a little differently. And the point here is not at all in the state system, but in the difference between the traditions of the two peoples.
Anatoly believes that Americans confuse freedom with excessive independence from the opinions of others. People on the streets look somehow groomed. Young boys or girls can afford to appear in society in sneakers or sneakers with holes from which toes are visible.
Overweight people, who are many here, often go in tight clothes and emphasize their indifference to how they look. This does not bother Irina. On the contrary, she is delighted with the degree of freedom of people who profess "body positive," that is, accepting yourself for who you are.
Here no one pays attention to anyone. Irina says that a woman in a beautiful dress with perfect make-up and hairstyle would rather be surprised here than, for example, a man in a parrot costume. She believes that the main principle of the Americans is not to complicate what can be simplified.
Irina draws attention to another pride of the Americans - this gay parades (or pride parades). In the days of their holding, people express their boundless joy and tolerance. During gay pride parades, even churches are decorated with rainbow flags.
Katya believes that you need to be mentally prepared for what you may encounter in America. For example, no one will react in any way to two men who are passionately kissing in a queue, even if this happens in a queue in a children's store consisting of mothers with small children. After all, as long as you are not personally touched, you have no right to make comments, because this can infringe on someone's freedom.
American homeless
Surprisingly, the fact that in the United States there are much more homeless people than in Russia. Both Katya and Anatoly mention this.
Katya says that, according to the American authorities, this is due to high housing prices. Not everyone can afford not only buying, but also renting an apartment or room. In addition, the cessation of financing of some medical institutions, including psychiatric ones, also affected this problem. Some of their patients also found themselves among the homeless.
Anatoly notes that not all of them were on the street because of their life problems. Among them there are also "ideological" homeless people who voluntarily chose such a way of life, since they consider themselves opponents of the "system".
The Russian emigrant draws attention to the impudent and unceremonious behavior of American homeless people. Tell the homeless person asking you a "penny" that you do not have money with you, so he will demand that you borrow a little from your friend and give it to him. And seeing you leaving the grocery store, he may indicate something from the purchased and declare that you give it back. In Russia, according to Anatoly, the homeless behave much more modestly. Apparently, in America they feel impunity.
American Cuisine
Irina notes that in the United States, local cuisine is primarily associated with fast food. Actually, there many eat out of the house. By American standards, nutrition should be fast, greasy, sweet, and unhealthy. And all this is accompanied by loud music. Irina calls New York one big restaurant created by immigrants.
Anatoly believes that genuine American dishes can be counted on the fingers of one hand - a hamburger, steak and french fries. All other dishes are borrowed from Italians, Chinese, Russians, Mexicans and representatives of other peoples who have contributed to the local cuisine.
Anatoly is not surprised at the huge number of overweight Americans. After all, food in local eateries, where most US citizens eat, is very tasty and served in large portions.
Although the choice of carbonated drinks, chocolate bars, chips and other snacks in Russian stores is quite wide, in the United States there is an order of magnitude more. Adults can easily avoid temptations. But it can sometimes be impossible for a child to explain that the excessive consumption of all these sweet and salty delicacies in bright wrappers can adversely affect health.
Many of those Americans who dine at home do not cook. Indeed, in the local shops there is a huge selection of various semi-finished products. Ready-made first and second courses on plates, which are quite easy to heat in the microwave, are especially in demand.
Katya adds that in the United States to bring lunch to work from home, especially if it consists of salad, fruit or anything else healthy, is a bad idea. Your American colleagues may decide that you are weird.
Of course, everyone lives the way he is used to. But when moving to another country, be prepared that people there will behave a little differently than in your homeland. If you are ready to become one of them, you can easily adapt. But do not rush to burn all the bridges, because adaptation may not happen. And then you will find yourself in a situation where you can't even be in a foreign land, and you can't return.