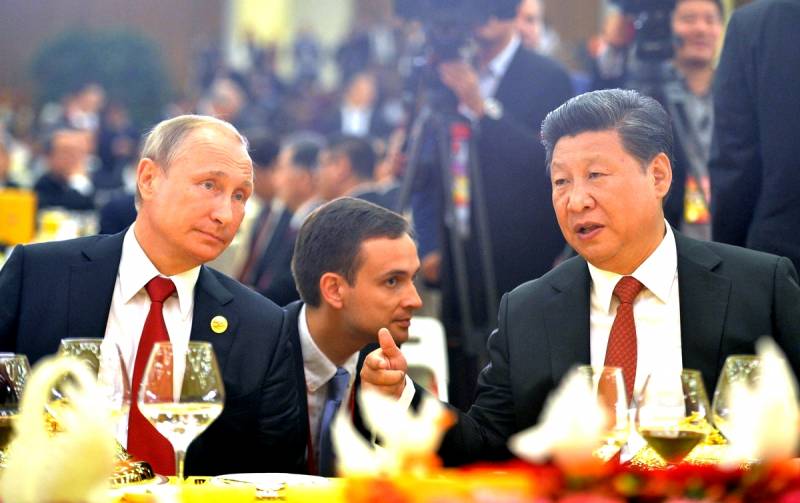 Increasingly, publications about Russia and its confrontation with the West appear in the Chinese press. Now in the Middle Kingdom they assess the likelihood of a capture of Kaliningrad by NATO, then they talk about a possible successor to President Putin. It is very curious how in the PRC they evaluate the "Achilles' heels" of our country.
The popular Chinese portal Sohu came out with material in which its author talked about the weaknesses of the modern Russian Federation. A glance from the side is sometimes very useful. What can be learned useful for us in analyzing its main points?
Russia is losing population
The author quite rightly points out that for the largest country in the world, Russia, 140 million people are "not of status", and this is true.
There are indeed problems with population reduction in our country. Russia still has not been able to get out of the "demographic pit." The authorities stimulate an increase in the birth rate, we must give them their due, but a much larger number of Russians are dying. Every year, on roads alone, a number of people die, comparable to the population of a small city. If you dig a little deeper, it turns out that the main cause of deaths from road accidents, crime, serious illnesses is the abuse of alcohol, as well as other potent drugs.
According to the UN, by 2050 there will be only 125 million Russians, and by 2100, 83,7 million. For the largest country in the world, such dynamics is a real national disaster. "Our land is great and rich, but there is no one to own it." It seems that with such a chronicle wording, the Varangians were once called upon. Of course, bring at least half a billion hardworking Chinese to us, they will rebuild everything here properly at a record pace. For yourself.
For example, on Baikal, natives of the PRC are building hotels and other infrastructure for compatriot tourists who have come to admire the Great Lake, not forgetting that it once belonged to the Celestial Empire. Okay, let's not escalate once again about the "Chinese threat". It is necessary to solve something, but on their own.
Multinationality: strength or weakness?
The publication notes the problem of Russia, which lies in its multinationality. The Chinese believe that the need to manage some minorities is expensive.
Well, the question is very controversial. In modern realities, Moscow really has to intensively "feed" certain regions of the country to the detriment of others. Not everyone is delighted. National differences sometimes cause serious domestic conflicts leading to tragedies.
However, multinationality can be not only weakness, but also strength. Russia, by its very nature, is an "imperial" country, it has always been inhabited by many peoples with different cultures and customs. And we defeated Hitler all together, and flew into space, thanks to common efforts. It's just that Russians of different nationalities need a constructive, unifying development project that will allow people to show their best, not worse, qualities. To regulate conflict issues, it would be nice to recreate the Ministry of Nationalities, as was the case under the USSR, which will not allow complicated issues to go by their own accord.
Commodity Economics
Sohu notes Russian weakness
economics
, its mono-orientation, and the "unsuccessful" northern location of most of the country. The Chinese write:
Turning to Russian history, one can notice that the country has a talent for conquering land, but not for managing it and economic development ... It has never been truly rich. In a stabilizing world environment, today, when the economy is becoming increasingly important, Russia, with its weak economic development, is doomed to failure.
Indeed, the raw material nature of the economy is the curse of the modern Russian Federation. Over the past decades, there has been a significant de-industrialization, thousands of production enterprises have been closed. The few that open are usually also associated with commodity exports. The country will now not withstand either an arms race or a war of resource depletion.
Unfortunately, the Chinese are completely right in this matter. Russia needs comprehensive industrialization at an accelerated pace, without focusing on pipelines alone, which are being imposed on us as "our everything." However, we note that Sohu felt a little false sympathy for Russia with its "northern location". As a matter of fact, this is precisely what gave us the Northern Sea Route, which was laid eyes on in Beijing, as well as the right to the lion's share of Arctic resources.
The eternal enemy of the West
Russia, according to the Chinese, is suffering because of the "difficult international situation": relations with the West, sanctions, war in the Middle East.
Well, there is a great deal of truth to this. Western sanctions have seriously suspended the development of many projects in our country. While there is a margin of safety, but it is necessary to carry out import substitution at an accelerated pace, instead of withdrawing funds from the NWF, investing them in the economies of those very Western countries.
In general, in the Middle Kingdom quite correctly indicated many of the weaknesses of modern Russia. Naturally, we have to ask ourselves, can we count on China's help in rebuilding and confronting the West? I would like to note that our country was not too rich in many respects because it helped others, the same China. Recall that the first stage of Chinese industrialization took place with the active assistance of the USSR.
Alas. You should not seriously count on this.
With a communist sign, modern China is a major capitalist predator. The US for Beijing is not so much an enemy as a dangerous competitor and at the same time a source of money. A trade war - this is please, a real one - only as a last resort, dosed. The Chinese are prudently pushing Russia for the role of a US military adversary, preferring to sit behind her back, earning on a lend-lease.
Therefore, China is definitely not our friend. But so far not an enemy. Nobody is going to occupy our territories for the sake of resources and living space. For one simple reason: we are already happy to sell all this to them.