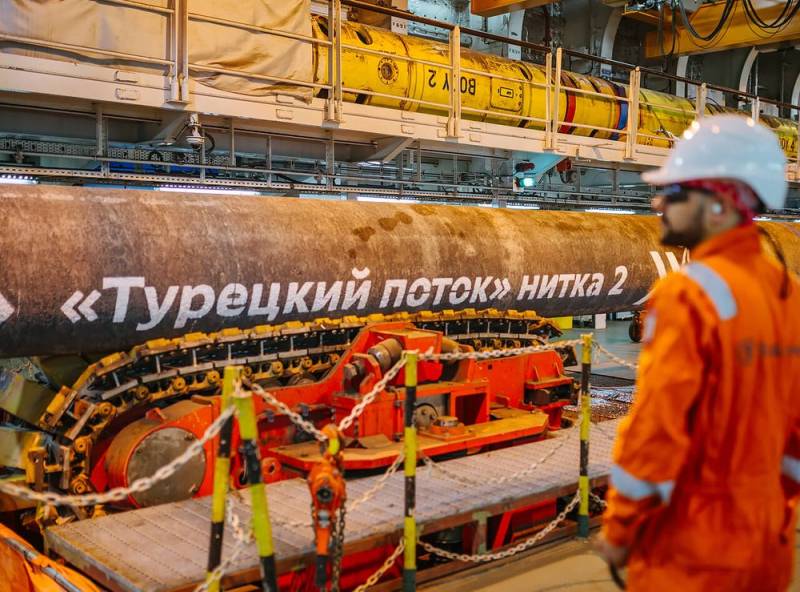 On November 19, 2019, PJSC Gazprom informed the public that both lines of the Turkish Stream gas pipeline were filled with gas (raw materials). This is stated on the website of the Russian gas giant.
The report said that commissioning is already being completed before putting the gas pipeline into operation, which should take place before the end of 2019. The pipelines are filled, starting from coastal facilities in Russia (near Anapa), to a receiving terminal located near the village of Kiyikey in Turkey. The Russkaya compressor station (CS) and the landfall section on Russian territory are completely ready. At the final (final) stage there are works at the indicated receiving terminal in Turkey.
It should be noted that 15,75 billion cubic meters can be pumped for each thread of the Turkish Stream. m per year. On the first line, gas will be supplied to consumers in Turkey, and on the second line, consumers in Southern, Eastern and even Central Europe (Austria) will be able to receive it.
It should be recalled that recently solemnly from Kiev
stated
that the Ukrainian company Ukrtransgaz has completed the modernization of the Grebeniki gas measuring station near Odessa. This "change" will allow delivering to the "independent" gas from Romania through the territory of Moldova in reverse mode in the amount of 4 million cubic meters. m of gas per day (1,46 billion cubic meters per year). It should be added that the contract for the transit of Russian gas to Europe through Ukrainian territory ends on December 31, 2019.