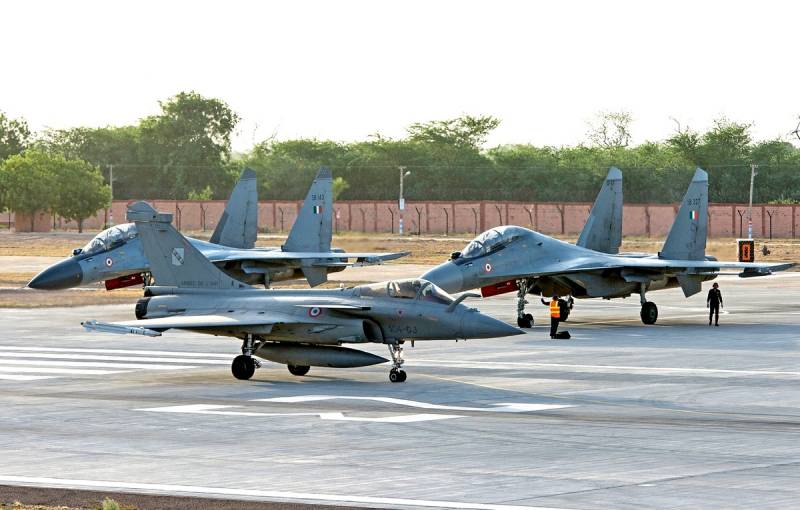 The Indian business newspaper Economic Times published an article in which it tried to explain the reasons for the country's Ministry of Defense's refusal to further purchase Russian Su-30MKI fighters in favor of the French Dassault Rafale.
Among the first arguments named a certain ability to "prolonged barrage". According to the authors of the article, according to this indicator, the French fighter is 1,5 times superior to the Russian competitor. Apparently, we are talking about the maximum flight range. Following the Indian edition compared the combat radius of two fighters. Dassault Rafale allegedly surpassed the Su-30 twice - 1050 km against 550 km.
And finally, the third argument was the maximum number of sorties that the aircraft can make per day. And here the French car, for completely unknown reasons, was ahead of the Russian competitor. The Economic Times claims that the Su-30 is capable of completing no more than three sorties in 24 hours, while the Rafale can complete up to 5 one-time combat missions.
The Indian media at the same time recognizes that fighter aircraft manufactured in France are significantly more expensive than Russian counterparts.
It is important to note here that other authoritative sources provide slightly different information about the flight performance of two combat aircraft.
So, the profile American site Military Factory indicates that the maximum flight range of the French Dassault Rafale without outboard fuel tanks barely reaches 1900 km, while the Russian Su-30 can fly at least 2500 km. The domestic machine also surpasses the "Frenchman" in combat radius - 1500 km versus 1400, taking into account that both aircraft carry 70% of the maximum combat load.
Recall that the contract for the supply of 36 Dassault Rafale units in the interests of the Indian Air Force was concluded in 2016. A month ago, France handed over to Delhi the first of the contracted cars.