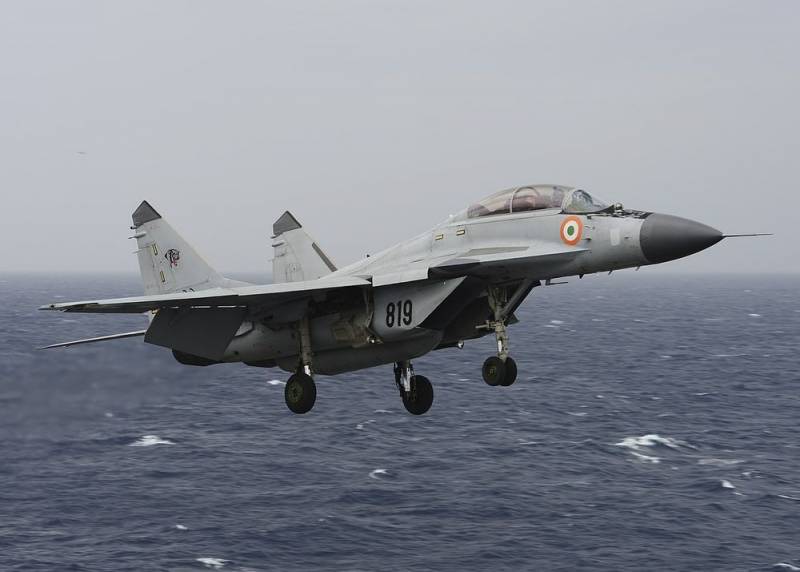 November 16, 2019 it became known that the training MiG-29K crashed in southwestern India. According to media reports, the fourth-generation multipurpose fighter, during a training flight over Goa, caused a fire in the engine.
According to Asian News International (ANI), one of the largest news agencies not only in India, but throughout South Asia, the MiG-29K flew from Dabolime (the only airport in Goa, it is used for both military and civilian purposes). However, during the flight there was a collision with a bird. It is clarified that the fighter crashed in an "open and safe" area, both pilots were able to eject and no one was injured. The information is confirmed by the Indian military. Video of the accident (crash) is already available on the Web.
It should be noted that as of 2018, India had 45 MiG-29K / KUB. The Russian all-weather deck-based fighter is a winner in the competition for the acquisition of the wing of the Indian aircraft carrier Vikramaditya and the promising aircraft carrier of the Indian Navy.
We remind you that in June 2019 we
published
video of a clash of an Indian Air Force Jaguar fighter-bomber taking off from a flock of Ambala (the state of Haryana in the north of the country) with a flock of birds.