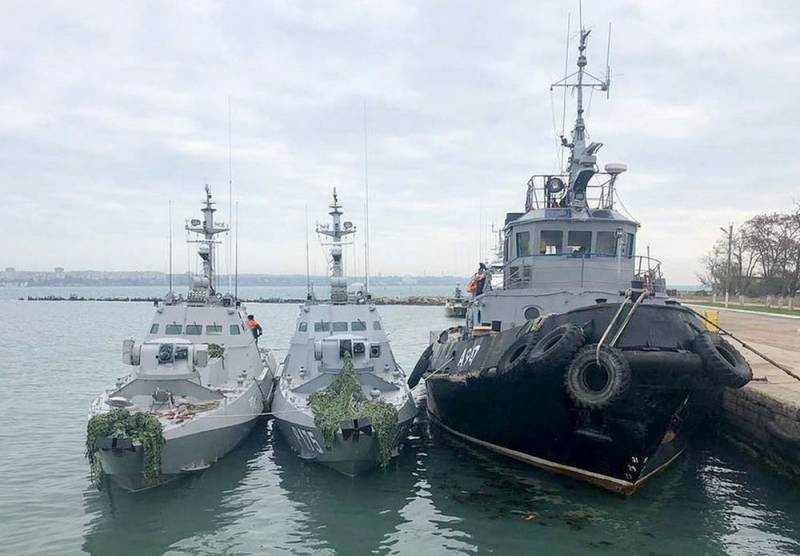 On November 4, 2019, the Ukrainian Foreign Ministry sent a note to Moscow demanding the return of Ukrainian warships "captured" (detained) during the "incident" (border violation) in the Kerch Strait on November 25, 2018. And so, it became known that Moscow was ready to give Kiev the Berdyansk and Nikopol boats, as well as the Yana Kapu tugboat before the summit in the "Norman format" (meeting of the leaders of Russia, France, Germany and Ukraine).
According to the publication
Kommersant
Referring to its informed sources, the mentioned summit should be held on December 9, 2019 in Paris. At the same time, the decision to transfer these ships to Kiev has already been taken by Moscow. Currently, representatives of various departments of Russia and Ukraine agree on the date and exact place of transfer of the ships.
It is specified that the procedure for the transfer of ships should go to sea. The ships will be towed by the Russians to a pre-agreed point, where they will be met by three Ukrainian tugboats. Ships will be delivered with standard weapons, but without ammunition.
It must be recalled that the ships, their property, including ammunition, are material evidence in a criminal case about violating the Russian border. Moscow just once again decided to demonstrate its goodwill to Kiev. How Kiev will answer this is not yet known.
By the way, the Bloomberg agency, referring to the office of French President Emmanuel Macron, confirms that the meeting in the "Norman format" should be held on December 9, 2019.