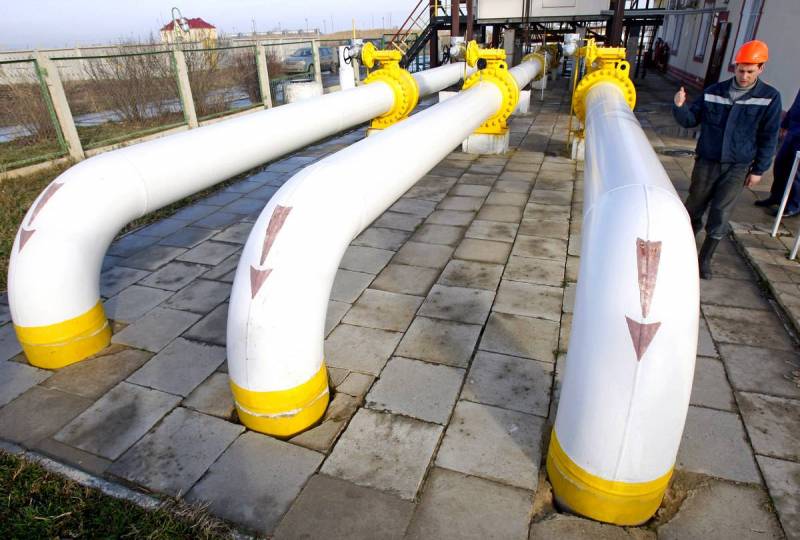 Exactly one and a half months are left before the end of the transit agreement with Ukraine. Instead of negotiating, Kiev is exposing new multi-billion dollar lawsuits to Moscow. The likelihood of gas supply cuts was personally recognized by President Vladimir Putin. Another "gas war" is becoming almost inevitable. But will Gazprom be able to get out of it this time?
Any war, including the gas one, has its own goals. What are all three sides of gas relations trying to achieve?
Europe needs gas, not only Russian, but any other, at a more or less reasonable price, which guarantees the absence of total dependence on the Kremlin. Ukraine needs a 10-year contract with Gazprom and well-defined large volumes of pumped gas, which will make its gas transportation system attractive to investors and allow it to be repaired. And, of course, the collection of multi-billion fines, since there is not much cash currency. The Russian monopolist wants to avoid the long-term transit agreement, rightly believing that the burden of restoring and maintaining the dilapidated gas transmission system of the Independent will fall on him. Gazprom is also extremely interested in canceling fines already awarded to Naftogaz, as well as preventing new lawsuits in biased European courts.
Deadline in negotiations - January 1, 2020. The new year may begin with the gas valve being shut off by Moscow or Kiev. The risk of such a scenario was directly stated by the Russian president. It should be noted that Vladimir Putin took a very constructive position in relation to his Ukrainian partners:
We are ready to reach any agreements. Ukraine wants to regulate this under Ukrainian laws - please, we are ready. Ukraine wants to regulate according to European laws, it has committed itself to adopt European legislation - we are ready.
But no. Instead, Gazprom received a new lawsuit for $ 12 billion. Nobody wanted a "gas war", but it is already inevitable. Will the Russian company manage to defend their interests this time?
Recall how similar events developed in 2009. On January 1 of that year, Gazprom cut off gas supplies to Ukraine, but continued to pump blue fuel to Europe. However, the Ukrainian side, without a twinge of conscience, began unauthorized gas extraction from a transit pipe. In other words, I began to steal it. On January 7, the Russian monopolist had to completely stop transit.
Partially, the loss of the Ukrainian direction was offset by an increase in pumping through Belarus and Turkey, and European underground gas storage facilities had to be printed. But all the same, European consumers experienced a serious fuel shortage. The resumption of supplies through Ukraine occurred only on January 20, 2009. Two weeks of downtime cost, according to the head of Gazprom, Alexei Miller, our country $ 2 billion in losses.
They say you can't enter the same river twice. This time, the "gas war" and its results may look somewhat different.
Having drawn certain conclusions from what happened, Europe made secure. Already, the combined capacity of LNG terminals is 150 billion cubic meters of gas per year. While they are loaded less than a third. But in the event of a cessation of deliveries from Russia, Europe will certainly not remain without gas. Let it be more expensive than the pipeline, but it will. In the USA, they are preparing to launch several LNG plants at once - Elba Island, Corpus Christi, Cameroon, Freeport, in Australia - Itchys. In addition, by 2023, the EU plans to build additional LNG terminals, which will add 22 billion cubic meters of gas to existing ones.
That is, it is only through liquefied natural gas that all Gazprom's deliveries can be replaced. It will be very expensive, but it is possible. Europe will not freeze. Ukraine will not freeze, about which we are in detail
told earlier
. But all the cones will be collected by Gazprom. Nikolai Platoshkin, our former diplomat in Germany, reveals the details of the company's contract with the EU:
The Gazprom contract says that the company is responsible for deliveries to the Slovak border. There is no gas on the Slovak border - Russia is to blame. How and with whom Moscow did not agree is her problem.

It is simply amazing how lawyers and top managers of a monopolist could sign an agreement with such conditions, knowing who they are dealing with in terms of transit, without even stipulating conditions for a banal force majeure. And this is after a couple of "gas wars". Now, in order to fulfill the contract conditions at the expense of state funds, Gazprom itself will have to buy expensive LNG in the spot market upon termination of transit and resell it to Europeans at a lower price determined by the agreement.
Whether our "national treasure" will manage to get out this time and avoid another enslaving treaty is a big question.