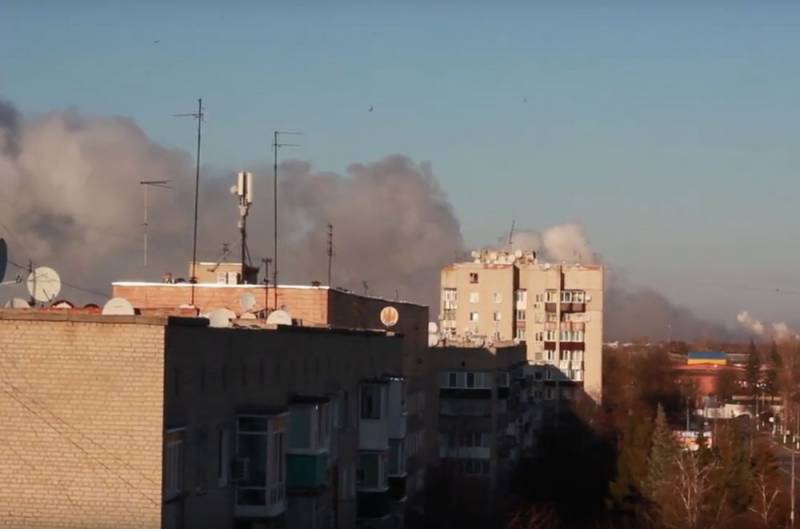 On November 15, 2019, explosions thundered again on the territory of the military arsenal in Balakliya, Kharkiv Region. Ukrainian media reported the death of two servicemen of the Armed Forces and the wounding of four more.
It should be noted that this arsenal took off in March 2017, since then on its territory there has been a disposal of everything that was not self-destructed then. Therefore, explosions periodically sound there. In May 2018, there was already a large emergency.
The Armed Forces General Staff has already commented on the situation, calling what is happening a plan for the destruction of ammunition that cannot be transported. Moreover, allegedly ammunition is destroyed in a specially equipped foundation pit and the population can not worry.
Currently on
technical
the territory of the military unit, measures are being taken to improve the place of work for the disposal of ammunition residues and their elements. Nothing threatens local residents and infrastructure. Ammunition depots are safe
- said in a mocking statement of the General Staff of the Armed Forces.
Explosions in the arsenal are reported by eyewitnesses. Due to the expansion of the fragments, dry grass ignites. At the same time, officials report in unison that evacuation is not required, and children can safely go to school to the accompaniment of the cannonade.
It is known that the next state of emergency occurred during the clearance of ammunition. Moreover, the military did not let rescuers from the regional State Service for Emergency Situations into the territory of the arsenal (recently it was the largest in Eastern Europe). The Prosecutor General of Ukraine has already opened a criminal case.