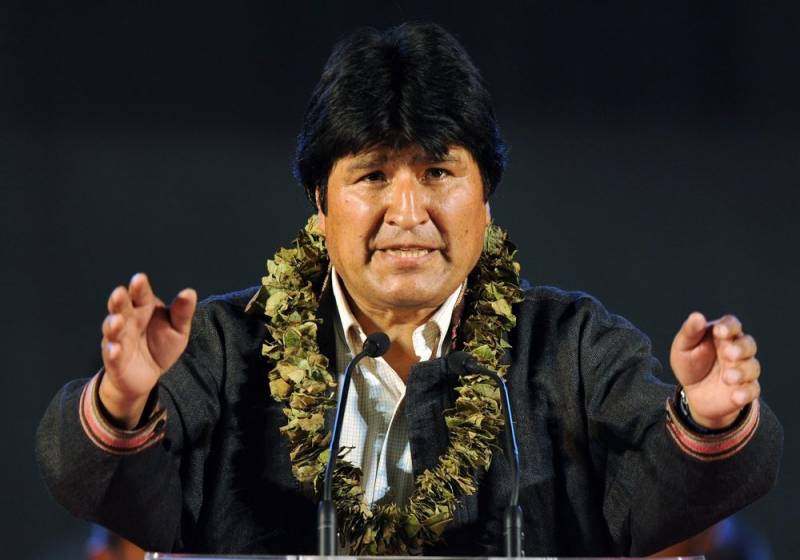 On November 10, 2019, Bolivian President Evo Morales, a friend of Russia, announced his decision to resign. This happened against the background of the ongoing protests of the pro-American opposition and the riots that swept this Latin American country after October 20, 2019, when the next presidential and parliamentary elections were held there.
It should be noted that before this, Morales announced the introduction of a state of emergency and accused opponents of organizing a coup. He promised his supporters that he would not leave his post and would not resign under organized pressure. However, the leadership of the army, led by the commander of the Bolivian Armed Forces, Williams Romero, and the Bolivian workers' union convinced Morales that "the people need to be reassured."
Morales said that he decided to take such a step so that "our brothers and sisters, civil servants, are not subjected to attacks and threats." He emphasized that he would not leave the country after his resignation, and the struggle for "equality and peace" had not yet ended. In a farewell address, he expressed the hope that the unrest in Bolivia would end and that the responsibility for the lives of people lay with the opposition leaders.
After the resignation of Morales, almost all the top leaders of Bolivia announced their resignation: vice-president Alvaro Garcia Linera, head of the Senate Adriana Salvierrara and head of the Chamber of Deputies Victor Borda. After that, the second deputy speaker of the Senate, Janine Agnes, declared that the power in the country was transferred to her.
I will be in La Paz on Monday (November 11, 2019 - ed.) To formally take responsibility according to the procedure for transferring power to convene new elections
said Agnes.
We remind you that on October 25, 2019, the Higher Electoral Court of Bolivia announced the victory of Morales in the elections. Morales gained 47,08% of the vote, and his competitor, Carlos Diego Mesa Gisbert (born 12.09.1953) - 36,51%. After that, "suddenly" there was criticism from the Organization of American States (OAS), controlled by Washington, and the protests of the "deceived" began. That is, an aggressive and militant minority decided to take power from the peace-loving majority. After that, the tools of the "color revolution" began to work, which are well developed in other countries over the past decades. Rallies began, which turned into riots and the blocking of judicial, legislative and executive authorities.
It should be added that Mesa (journalist, historian and pro-American politician) was the president of Bolivia from October 17, 2003 to June 6, 2005. At the same time, Juan Evo Morales Ayma (Juan Evo Morales Ayma, born October 26.10.1959, 22) was President of Bolivia on January 2006, 400 (the Movement to Socialism party). This is the first statesman in XNUMX years (since the time of Spanish colonization) who is a representative of the indigenous population of the country - Aymara. Now in Bolivia, a new presidential election should be held.