On November 9, 2019, in the north of Syria, the third joint Russian-Turkish patrol took place in areas of compact residence of Syrian Kurds. At the same time, once again, there were some incidents. Documentary evidence has already appeared on the Web of the not quite correct and logical behavior of the Kurds, who, like savages, attack the armored vehicles of the Russian military police, protecting the Kurds, and not leaving them alone with the Turkish army.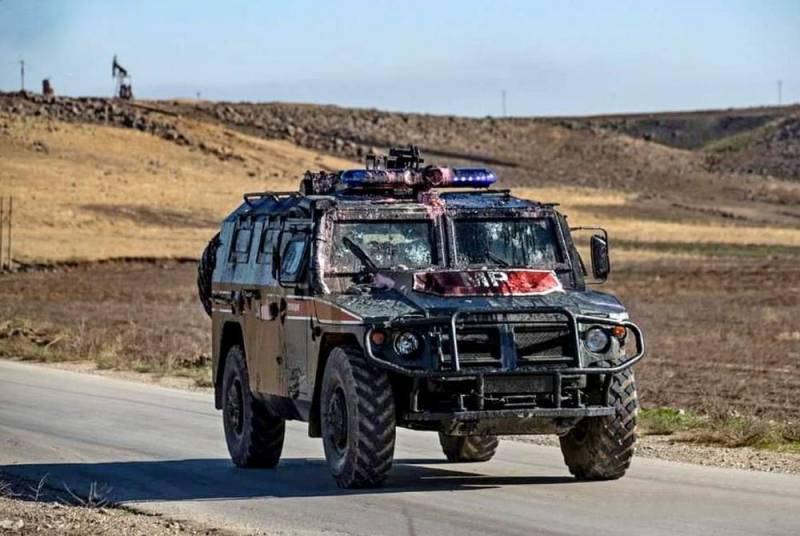 The video clearly shows how local residents from adjacent villages begin to converge on the road along which the patrol rides. A decent crowd gathers along the patrol route, which, ignoring sound signals, does not leave the road, blocking the way. Then the Kurds (of both sexes) begin to attack the patrol, throw stones at it and use the items brought with them.
Kurds, emboldened by impunity, tried to inflict damage on the Russian Tiger armored car. They hit him with a sledgehammer. Got, of course, and the Turkish armored car "Kirpi". At the same time, it is extremely doubtful that the Kurds would decide to pounce on a separate military patrol of the Turkish army. Probably, the presence of the Russians inspired the Kurds with confidence that no one would shoot. Moreover, the column stops and does not move people on the road.
It should be noted that this is the second case of such a behavior of the Kurds in relation to the armored vehicles of the Russian military police. The first case occurred a few days ago, during a similar patrol.
We remind you that according to the Russian Ministry of Defense, Moscow and Ankara are conducting joint patrols of the territory. Routes in northern Syria are agreed upon, approved and necessary to relieve tension. As for the patrol mentioned above, it took 4 hours, during which the patrol covered 105 km.