After the pride of the Pentagon, the USS Florida nuclear submarine ("Florida") the US Navy (such as "Ohio"),
tainted
self-loud and outrageous sexual scandal, American admirals are trying in every possible way to fix the reputation of their submarine fleet. For example, the presenter of the American television channel ABC News, David Muir, spent the whole day on the specified submarine "Florida", after which he told how submariners of the US Navy track Russia's activities in the Mediterranean Sea.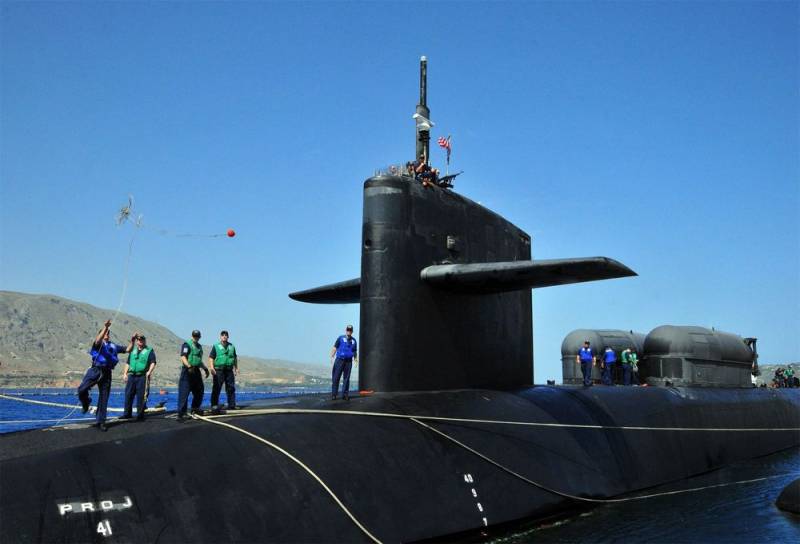 Muir told the public that the US Navy is closely monitoring the "activity" of Moscow in the Mediterranean. He noted that the "Florida" is on combat duty in the eastern Mediterranean. He clarified that he was on a submarine during the "secret mission on Monday" (November 4, 2019).
We are not alone here. Russians are very active, and we are also actively working after them
- Deputy commander of the 6th fleet of the US Navy, Rear Admiral William Houston, said meaningfully to Muir.
The submarine is a maze of narrow corridors and hatches - sailors even have to sleep between missiles
Muir explained.
The host also provided some details regarding the submarine. So her team consists of 160 people. Onboard there are more than 100 Tomahawk missiles - seven of them are constantly ready for launch. There are 8 more torpedoes for self-defense. The submarine can be at a depth (without surfacing) from 90 to 120 days. She is ready at any moment to take special forces aboard (in one of the compartments for them a whole arsenal of weapons is stored).
Russia has demonstrated its readiness to use missile attacks from submarines in the Black Sea, destroying targets in Syria - and now, it turns out, is already here in the Mediterranean?
- Such a question was asked by the leading rear admiral.
That's right, they are here, and we are very, very closely watching them. Every day we follow them
- confirmed and emphasized Houston.
Muir noted that in addition to gaining strength in Syria, Russia recently "played with its underwater muscles" in the Barents Sea and tested a new sea-based ballistic missile, i.e. submarine ballistic missile (SLBM). Therefore, "Florida" is on alert in the Mediterranean.