More recently, most of Russia's gold and currency reserves (gold reserves) were stored in the United States, despite the fact that this country occupied no more than 3% of all Russia's foreign trade. What has changed in the structure of our gold reserves over the past five years, when it became clear that we are no longer "with the Americans"?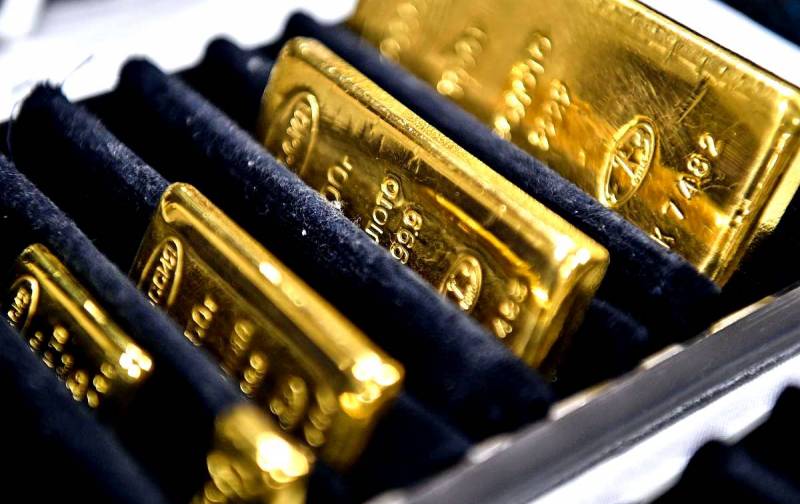 Sharp changes in the structure of gold and foreign exchange reserves themselves became noticeable in April last year, when the Central Bank of the Russian Federation began to rapidly dump its assets expressed in Treasury securities of the US Treasury. It is easy to notice that in time this event coincided with the demonstrative introduction of personal sanctions against a number of prominent Russian officials and businessmen, some of which are considered close to the Kremlin.
"Frightened" before possible further restrictive measures regarding operations with federal loan bonds and banks with state participation, the Central Bank of the Russian Federation took measures to radically restructure the gold reserves. As of the end of October, the volume of our international reserves has grown and amounted to 539 billion 900 million in dollar terms.
Gold
It is noteworthy how assets in physical gold grew. They already amount to 2242,5 tons, which puts Russia in fifth place in the world among the largest holders of the precious metal, and is constantly growing due to regular purchases and its own production. At such a pace, our country may well in a few years move to an honorable fourth place in the ranking. Vice Prime Minister Anton Siluanov said:
Gold is such an asset, its reliability is understandable ... And a basket of gold, it seems to me, is an absolutely correct investment of its reserves.
It is difficult to disagree with the head of the financial department in this matter. An additional plus sign is that physically precious metal is located on the territory of our country, that is, no foreign courts will be able to arrest them, recover fines from them, or freeze them.
With other international reserves of Russia, everything is not so uniquely positive.
Currency
The Central Bank of the Russian Federation sharply reduced the volume of assets denominated in US dollars in favor of European and Chinese currencies. Now in the structure of gold and foreign currency reserves, we have 30,3% of the euro, and in the yuan - a very impressive 14,2%. In general, this is consistent with
policy
Russian dedollarization
economics
. Unfortunately, this coin has its own downside.
Coming out of the dollar, the Central Bank of the Russian Federation, according to some estimates, received less than $ 7 billion in profit amid rising "American" rates. In addition, Russia is constantly losing money invested in the yuan due to the ongoing devaluation carried out by Beijing. Such is the fee for the gradual return of economic sovereignty.
Securities
Over 193 billion dollars are currently invested in bonds of foreign countries. Another 41,1 billion was invested in non-government securities of foreign issuers. In addition to this, over 140 billion dollars are in the accounts of foreign banks.
As you can see, the lion's share of our international reserves works for the economies of other countries. For example, the Central Bank of the Russian Federation bought up $ 65 billion in Chinese government bonds. The regulator also benefited from the financial systems of Germany, France, Japan, the USA and Britain. Note that the countries on this list have imposed sanctions on the Russian Federation.
I would like a certain sequence of domestic government officials in ensuring the economic sovereignty of Russia. All these accounts and securities may be seized if necessary. Recall that, for example, Ukraine is putting forward new multibillion-dollar lawsuits against the state-owned Gazprom company.
Note that a large-scale purchase of foreign currency is planned in the budget for the next three years. 6 trillion 600 billion rubles will be spent on this: in 2020 - 2 trillion 333 billion, in 2021 - 2 trillion 235 billion rubles, and in 2022 - 2 trillion 35 billion. In other words, a gigantic amount of money will be withdrawn from the Russian economy and aimed at the development of our direct opponents and competitors.