On November 5, 2019, Donetsk was informed that dozens of armed Ukrainian nationalists were gathering in the area of ​​the Petrovskoye settlement, where the separation of forces and assets was planned, to prevent this peacekeeping process. This was announced at a briefing by an official representative of the People's Militia (NM) of the Donetsk People's Republic (DPR).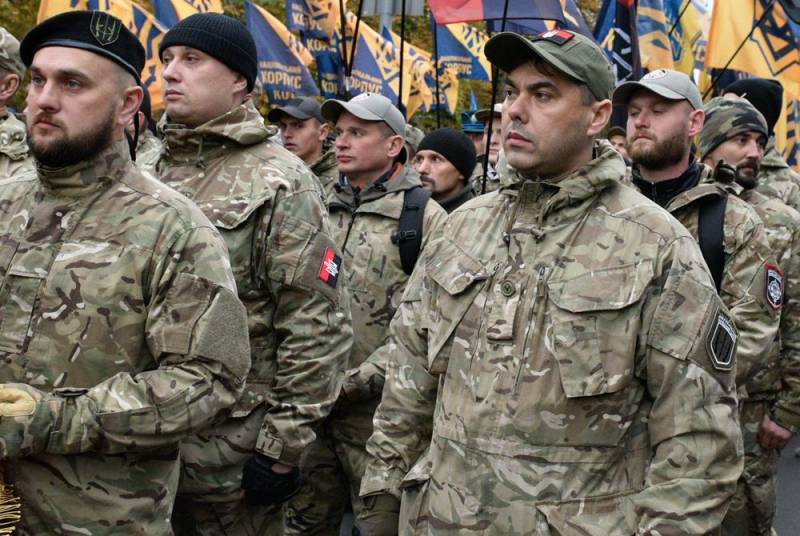 It is noted that nationalists gather in large groups in the villages of Nikolaevka and Novognatovka, located near the village of Petrovskoye. According to available information, in the last day alone, about 60 armed radicals have gathered there.
At the same time, Ukrainian troops involved in the operation of the joint forces (OOS) are trying to counteract the assembly in order to prevent the escalation and exacerbation of tension in this sector. According to the statement of the DNM NM, the AFU reconnaissance battalion has already entered the confrontation with the Nazis.
It should be recalled that from October 30, 2019, Ukrainian nationalists began to actively pull themselves up to the Donbass, after the sluggish reaction of the Ministry of Internal Affairs of Ukraine to
what was happening
in the village of Golden-4, where it was planned the separation of forces and assets before this. It got to the point that the head of the DPR Denis Pushilin was forced to announce the start of military exercises in the republic because of the threat of destabilizing the situation.
Therefore, breeding in the area of ​​the Petrovskoye settlement, which was scheduled for November 4, 2019, did not take place. The Ukrainian side did not demonstrate readiness for the signal sent from the DPR, calling it a provocation for "blurring the eyes of the international community." The next breeding attempt is expected on November 11, 2019.