November 5, 2019 Central Aerohydrodynamic Institute named after Professor N.E. Zhukovsky (TsAGI) introduced the aerodynamic model of the new heavy transport aircraft "Elephant" (in the configuration without plumage). This promising aircraft should replace the long-range An-124 Ruslan. This was reported by the press service of the institute.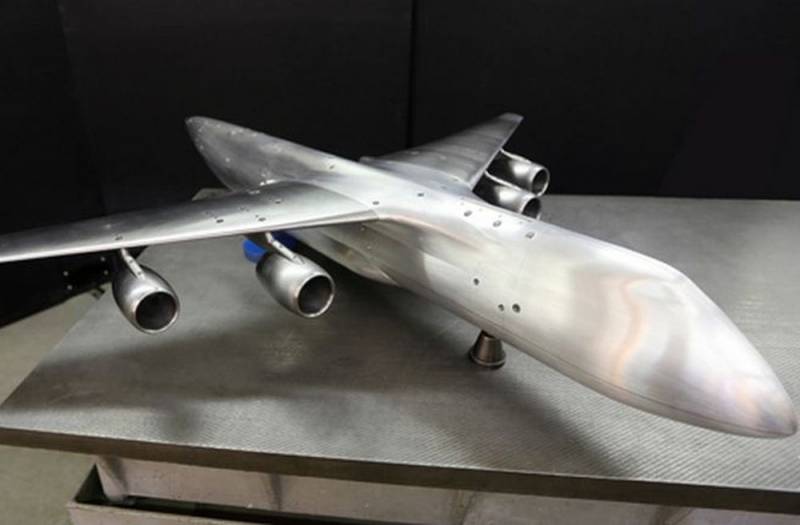 It should be noted that before this, TsAGI determined the concept of the future aircraft and designed its design. The next step was the production of the model itself, which has overall dimensions: length - 1,63 m, wingspan - 1,75 m, height - 0,5 m. It is clarified that most of the model is made of aluminum alloys, and heavily loaded elements are made from structural steels. The mass of the model is 120 kg, which makes it suitable for testing in the wind tunnels of the Institute.
The design consists of a smooth wing with removable tips, a fuselage, a removable deck horizontal tail with deflectable two-section elevators, vertical tail with a deflectable two-section rudder, flowing nacelles with pylons and a cowl fairing
- said in a statement
TsAGI
.
As specified by the deputy chief of the technological department of the pilot production of the scientific and industrial complex of the institute Andrei Sidorov, the production of the model was carried out in stages. The most difficult was the work on the wing, which has a complex shape. This form is necessary for high aerodynamic performance.
It should be added that the presented model is transformable, i.e. it can be tested in various configurations. This model provides ample opportunity to modify the layout elements, including changing the shape of the nose and tail of the fuselage, wingtips, landing gear fairings and other elements.
Until the end of 2019, research on the model in a wind tunnel (installation) of variable density T-106 will begin. We will study the characteristics of cruising modes. In 2020, research will continue on the T-106 and T-102. The aerodynamics in take-off and landing modes will be checked. They plan to carry out visualization of the flow around the model.
It should be recalled that the "Elephant" is intended for the transportation of heavy and bulky goods at a range of 7 thousand km at a speed of 850 km / h. The maximum payload is 180 tons (An-124 has 120 tons). The desired length of the runway (runway) - 3 km, the aircraft will be installed Russian promising dual-circuit turbofan engines PD-35.