Recently, NATO exercises at the very Russian borders began to be conducted almost continuously. The next Iron Wolf II maneuvers, which began in Lithuania, caused extreme displeasure with its aggressive orientation not only in Moscow, but also in Minsk, which was officially announced in both capitals. Nevertheless, the North Atlantic Alliance, completely ignoring the opinions of its neighbors, continues its military games as if nothing had happened.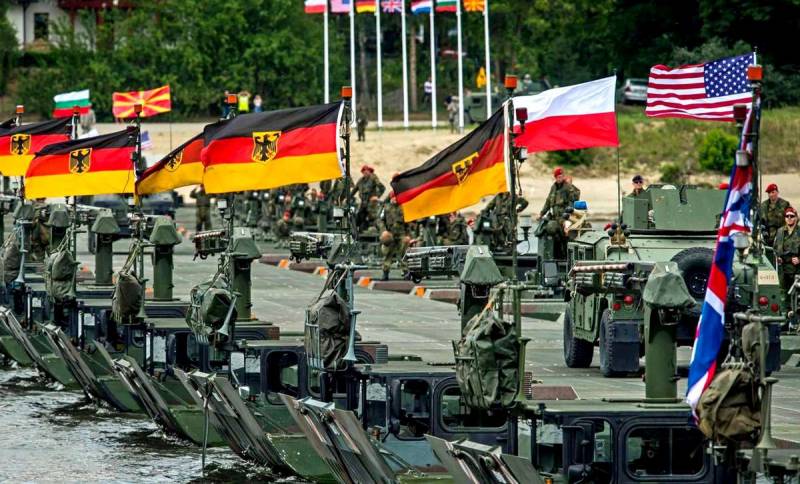 What do they ultimately achieve in NATO? What do you want to achieve with such a demonstrative saber-clanging at our borders? We will try to find the answer to this question, relying primarily on what is quite openly said and written in the main countries of the Alliance.
From the Iron Wolf to the European Defender
There is nothing surprising in the fact that the "wolf howl", which is actually a roar of diesel engines of American and German tanks, makes both Belarusians and Russians nervous. According to an official statement by NATO representatives, "at the Lithuanian training ground Pabrade," they will work out defensive tactics, "however, at the same time, for some reason," carry out offensive tasks. " In what directions and on whom specifically can one attack from Lithuania, I think it's not worth explaining. However, the Iron Wolf, in which only 4 combatants from 11 countries of the Alliance will be involved, is only one of the many rehearsals of a truly large-scale action - the forthcoming NATO Defender Europe 2020 maneuvers unprecedented in scale next year. In fact, they will represent It is the ultimate pumping of Europe by American troops with their access to the western and southern borders of Russia almost over their entire length. Just like in 1941 ... Perhaps that is why some German media write with genuine enthusiasm about the upcoming event?
So, Frankfurter Allgemeine Zeitung states:
Russia must know: we want and still can!
What do you want ?! Are you trying to scare us? To incline to something, to prove something to us? Why on earth are all these "demonstrations of powerful synergy and strong friendship" that "potential opponents really should not like" how Lieutenant General J.T. Thomson, Commander-in-Chief of the NATO Ground Forces is talking about this, discussing future exercises? Make friends there, how much will fit - just not against us. Nevertheless, German journalists are trying to argue that "the Kremlin has ready-made scenarios" for starting a war in Europe, which could erupt after a "hacker attack on banking systems" or reports of violence against "Russian minorities" in various countries, which, of course they will be fake. And then - everything ... Aggression! "Russian military units" will flood into the West - and a kayuk. By the way, about the "can" Frankfurter Allgemeine Zeitung speaks more or less objectively, arguing that the "armed forces" of the Baltic states, in total, do not reach the full-blooded division, "in which case" will last, "a maximum of a couple of days". All hope for the Americans and they are already in a hurry to help!
For some reason, the authors of this obviously propaganda concoction, which I don't see the need to quote, completely ignored, for example, the opinion of the same director of the European Security Program of the International Institute for Peace Research, Jan Anthony, who, after conducting joint Russian-Serbian air defense exercises, said that even this does not give grounds to assert that Moscow is preparing to attack the European Union or any of its member countries. Yes, Mr. Anthony agrees that "now in Europe there is a very difficult security situation," but this problem is caused, in his opinion, by "the ongoing deterioration of relations with Russia." But we are not the ones who are making them worse! No, of course, if we continue to make the reunification of Crimea with Russia an "illegal and illegitimate annexation", as was done in the last official statement of the Ukraine-NATO commission, then there will never be any improvement at all. Are the words of Foreign Minister Vadim Priestayko true that there is a certain "special headquarters" in the Belgian Mons, in which the top military leaders of the Alliance develop specific operations against Russia together with representatives of the General Staff of the Ukrainian Armed Forces?
"Damage Strategy"
The most interesting thing is that this statement, in contrast to the absolute majority of "stuffing" from Ukrainian
politicians
, may well be a reflection of the true state of affairs. So, in the American edition of Foreign Policy, a publication appeared recently, the authors of which make not only significant, but rather alarming statements. For example, that NATO, it turns out, is already in full swing developing "strategies to contain Russia", including plans to attack the Crimea and the Far East. This happens, according to the publication, due to the fact that "Washington is acting within the framework of great-power rivalry" and intends to pursue a "strategy of horizontal escalation and cost", using "unlimited access to anywhere in the world." All this, of course, most of all resembles a plan of group suicide of humanity, however, it is impossible to completely discount the possibility that such thoughts are wandering in the minds of some representatives of the highest echelons of power in the United States. They have too deeply rooted in them over the past decades unshakable confidence in their own absolute military superiority and absolute impunity. In no way can they get rid of them, despite the changed realities.
What is surprising if in the United States not so long ago there were a couple of "military analysts", some Bradley Bowman and Andrew Gabel, who quite seriously put forward the idea that "leveling Putin's superweapon" is easier than ever. For this, it turns out, you need to quickly do just three things. First of all, "to appoint the Pentagon responsible for making key decisions regarding the command, control, combat command and communications system in the area affecting defense against hypersonic weapons." Well, yes, it's important ... From whom then do you make a "scapegoat", if what? However, there is a correction: neither blame nor make excuses if, God forbid, Russia will use hypersonic missiles, there will be no one in Washington. However, Bowman and Gabel are sure that they will be able to be stopped by fulfilling two more conditions: to poke in space more sensors that track "sources and" the spread of hypersonic threats. " And in the allied countries, such as Australia, Canada, New Zealand, Israel and Britain, to place more "corresponding interceptors" ... What are the corresponding ?! If there had been protection against the Vanguards, Daggers and Petrels, then they would have thought up where to place it without you!
The danger, however, lies in the fact that someone in the White House, such covert speculations can seem convincing. Hence the various "damage strategies" to our country, which, in the silence of the comfortable offices of multi-star generals and senior politicians, may seem successful and even feasible. But in practice, they will inevitably go sideways. By the way, in the same Foreign Policy, the authors of the publication conclude that such attempts of "restraining attacks" either will not lead to anything, even if they are for the "vulnerable periphery" for our country, which they are supposed to inflict, no more painful than mosquitoes bites, or "provoke severe retaliation with disastrous consequences." Moreover, American journalists believe that "most of the rest of the world" will consider Russia's harsh retaliatory actions legitimate and "justified."
It would be good if in the NATO countries and, above all in the USA, such publications more often appear, rather than cheer-winning proclamations in the spirit: "we already want and we can still!" With Wishlist in relation to our country should be more modest and careful. At least because the "we can" of the North Atlantic Alliance, even taking into account the bombers and tank divisions being transferred from across the ocean, seems very exaggerated.