On October 28, 2019, 18 armed Ukrainian police officers arrived in the village of Zolotoe-4 in the Donbass to "evict" Ukrainian "patriots" from the National Corps. This is exactly what "volunteer" and photo correspondent LB.ua Maxim Levin, who had dug in this settlement, wrote on his Facebook page, who visited the Ilovaysk "boiler" in 2014 and, apparently, wants to repeat such an "adventure" again.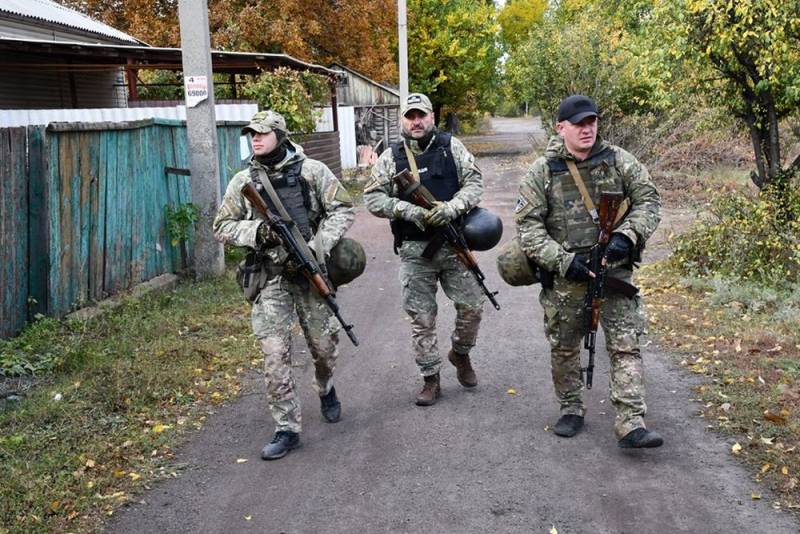 It should be noted that this village is located directly on the demarcation line. Therefore, the police were interested in the cars of the "patriots", beautifully and neatly parked almost on the front lines. "ATO veterans" began to resent the totalitarian search, indicating that this was a violation of their rights. Then in the Telegram channel "The last checkpoint. There is no surrender, "cries began in the style of" help, hooligans are depriving of vision. "
At the same time, the deputy head of the Ministry of Internal Affairs of Ukraine Vadim Troyan, the former commander of the Azov regiment, materialized at the scene. This famous Ukrainian "patriot" informed Russian to another famous Ukrainian "patriot" Levin, who also spoke Russian that no one was going to expel representatives of the National Corps.
If they will be stormed, I will be one of the first to write a dismissal report
- said the sports-dressed Troyan.
After which it became known that the "ATO veterans", who were in Zolotoy-4 with supposedly legal weapons of their own, had already taken it out. And now, in his opinion, only a group of "volunteers" without weapons is in the area of ​​preparation for the withdrawal of troops in the OOS zone.
Troyan said that there are 6 patrols of the National Police, as well as an NPU point for receiving citizens. He added that the National Guard will be sent to this area to ensure public order and security. So citizens can feel safe.
By the way, recently we
Reported
how Russia responded to Nazi threats Zelensky.