Scheduled for October 28 regular talks between representatives of RAO Gazprom and NAK Naftogaz, held in Brussels with the participation and mediation of stubbornly trying to "put in one boat" the irreconcilable opponents of EU Energy Union vice president Maros Shefcovic, many analysts have previously described how the combination unpleasant with useless. The main issue at the meeting, of course, will be the transit of Russian "blue fuel" through the "unpowered" GTS, the term of the agreement on which will expire with the first blow of the New Year's clock.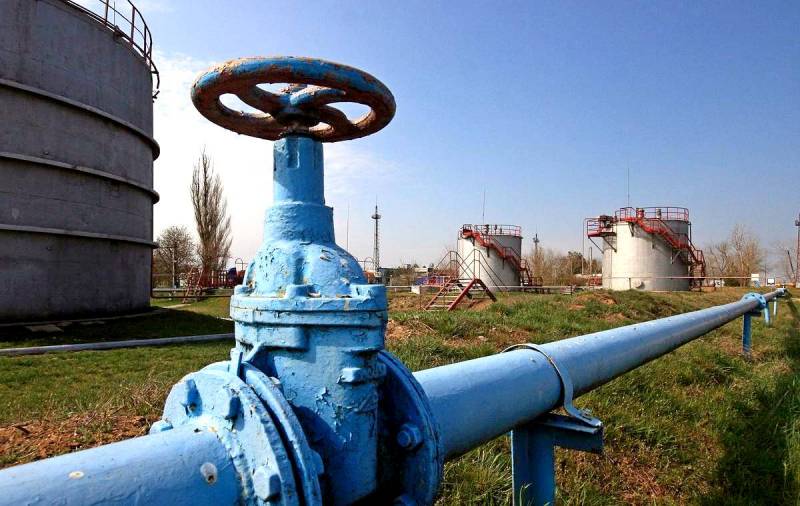 In truth, the chances that a compromise can be reached on this issue are not only small, but directly illusory. The positions of the parties are too different, there are too many fundamental points in them that both Moscow and Kiev are unlikely to consider possible to sacrifice. So what - Ukraine has to remain without gas in the middle of a cold winter? It may very well be ...
Options are available
Thinking globally, there are two real scenarios. First: Kiev agrees to Russian conditions, that is, it renounces its own multi-billion dollar claims to Gazprom, looks more real at its position and role in cooperation with Russia on this issue. In a word, it ceases to "swing rights." Then, quite possibly, he will be able to continue pumping our gas through his "precious" pipes. In any case, for some time and to a certain extent. Including, and providing their own needs, albeit through completely schizophrenic with
economic
point of view "reverse" schemes. In the end, even the president of Russia, Vladimir Putin, has already mentioned the readiness to conclude a new transit agreement with Kiev on the "European conditions" so desired for him. But just here we come to the most "slippery" moment. The problem of "unbroken" is that there is simply no one to sign such an agreement with. There is no legal entity that complies with the harsh European rules regarding the separation of energy sales, production and transportation, the so-called unbundling. That is, even if Moscow gives up a generous hand and says: "Damn it, we will continue to supply gas!", Then this will be possible only under the conditions that it will dictate.
The second option is just a complete rejection of transit. And it seems to this turn of events that everything seems to be moving. The arrest recently imposed by the Amsterdam district court on the entire stake in South Stream Transport BV, which caused a real storm of delight in Kiev, will definitely not help mitigate the position at the upcoming meeting of Alexey Miller, who has repeatedly put the list of conditions for further cooperation with the Ukrainian side on the list her cessation of litigation. Incidentally, the same position was voiced by the Russian energy minister, Alexander Novak, and other Russian officials. Surrender to Naftogaz in this situation, by and large, will mean enormous material and reputational losses not only for Gazprom, but also for the Kremlin. The vast majority of our citizens are unlikely to positively appreciate the idea of ​​further sponsoring the anti-Russian Kiev regime. Europe? Well, that's just there, judging by the actions of those who are responsible for energy security in the Old World, the prospects for Russian-Ukrainian negotiations were quite realistic. In this connection, they began to pump record volumes of "blue fuel" into their own underground storage facilities since the summer. Moscow will not try to "twist their hands" on this issue in the capitals there. If only because for such actions the EU simply does not have the means or tools.
Polish bluff of Kiev
I must say that until the last moment the Ukrainian side, traditionally trying to portray the state of affairs in a much better light than it actually is, actively broadcast the thesis about its own, allegedly achieved "energy independence" from Russia. In particular, this kind of talk revived after the signing in Warsaw on August 31 of this year of a "historical document" - a memorandum on energy security, to which the United States, Poland and Ukraine became parties. Over time, "technical details" were added to this. The head of Naftogaz Andrei Kobolev proclaimed with great fanfare that after a "deep modernization" of the Komarno compressor station, 18 million cubic meters of gas would be pumped from Poland daily, that is, up to 6.6. billion cubic meters per year!
We sneezed now on Russian supplies! Yes, Ukraine will now become the guarantor of energy security in Europe, providing it with an additional 10% of the currently available volumes for the storage of "blue fuel"! Know ours!
- Kobolev spilled the nightingale on Facebook.
A cold shower was the official statement of the Polish operator, Gaz-System, which gave an official response to the praise of Kiev. There are no declared gas volumes there for Ukraine in nature today! And, moreover, in the near future is not expected. In addition, the real capabilities of the gas transmission systems of the two countries make it possible to deliver less than a third of the volumes announced by the head of Naftogaz to the "non-winter" - 2 billion cubic meters, maximum. Yes, and they still need to be taken from somewhere.
The construction of new LNG terminals for receiving supplies from the USA, the laying of the Baltic Pipe pipeline from Norway are all projects so far. Requiring, by the way, considerable investments, which cannot be expected from the Ukrainian side. The Komarno CS alone is far from a full-fledged gas pipeline between the two countries. According to some estimates, this can cost no less than $ 200 million, which Kiev does not intend to shell out. They again want the usual "freebie" again, but it is unlikely that such a number will go with the Poles. They will definitely not build a pipeline for their money. But even if, let's say, they build ... To sell gas to Ukrainians, maybe they will sell it, but only if the surpluses themselves appear. And at what price, it's better not to ask about it. Overseas LNG, by definition, is significantly (20-30%) more expensive than the same energy delivered through pipelines. But Warsaw will definitely want to have its own interest in this matter. So, gas prices in the "nezalezhnaya", where, by the way, from the beginning of next year, all restrictions and state regulation on them are lifted, can soar, truly, to sky-high heights. However, all this, by and large, is only a fortune-telling on coffee grounds. Poland's need for "blue fuel" today is about 15 billion cubic meters per year. After the modernization of the terminal in послеwinoujцеcie, it will be able to receive 7.5 billion cubic meters. Another 10 from Norway, after the commissioning of Baltic Pipe. All this can become real no earlier than 2022. But in the same year, an agreement with Gazprom ends at Warsaw, which, judging by the declarations, they do not intend to renew. Well, and where will 6 billion cubic meters for Ukraine come from ?!
What is not spoken out loud
In the situation with transit, there is in addition a considerable number of "pitfalls", which neither of the parties seeks to voice. For example, the moment that ... its Western partners in Kiev may well be interested in its suspension! The reason is simple - in the near future with a probability of 99.9%, at least half of the Ukrainian GTS will be sold, in which case, of course, preference will be given to "foreign investors". Not Russian, of course. Here are just a price for a set of already quite dilapidated pipes and compressor stations will differ significantly - in the presence or absence of a transit contract. In the event of such a cessation, Kiev simply does not have enough energy volumes sufficient to maintain the GTS at least in a relatively working condition. The local pipes will turn into complete scrap metal even in the couple of years that will pass before the arrival of the hypothetically expected gas from Poland. If someone wants to buy all this for nothing, then he will do his best to ensure that any negotiations between Gazprom and Naftogaz end in nothing. Who could it be? Who is ready to play the role of "grave digger" of the Ukrainian gas transportation system in order to later become its owner, even for mere pennies? Well, at least one candidate is available. Such a seemingly completely illogical move would be quite beneficial for the United States.
Their desire to bring more of their representatives to the same Naftogaz, which caused a scandal in Washington, is by no means an indication that the US was inflamed with a desire to save the energy industry "unbroken". Quite the opposite! Across the ocean, they are vitally interested in strangling any pipeline transit of energy to Europe, dreaming of undoubtedly establishing their own LNG in its markets. It is from here that endless attempts to disrupt the construction of the Nord Stream-2 and the Turkish Stream, hypocritical talk about the "need for diversification" and "energy security" of the Old World. Washington's dream is to shut off all the pipes coming from Russia once and for all. That's just not everywhere the White House can dispose of, as on its own lawn. In Ukraine - quite. However, this is only one side. We should also not forget that of the 18-20 billion cubic meters of gas that, as declared, has already been pumped into the UGS "nezalezhnoy", at least one fifth does not belong to Naftogaz, but to private entities. That is, those who will release "blue fuel" to whom they want and when they consider it necessary. And most importantly, at the price that he himself will appoint. For these owners, the termination of transit opens the opportunity to make the best gesheft in their life in January-February of next year. Half of Ukraine will freeze to hell, you say? I beg you ... But the second will pay how much they say.
Given all these developments, the prospects for residents of Ukraine loom extremely unattractive. According to forecasts, this winter is expected to be quite severe and long. For example, forecasters from the UK generally predicted that Europe would have to deal with frost and rainfall, which she had not known for the past 30 years. This cold also knocks at the homes of Ukrainians. According to the available data, the situation there is far from brilliant with coal reserves for CHP plants. If interruptions also occur with gas, the situation may become completely disastrous. For example, according to completely reliable data, despite the official start of the heating season for the housing stock in Kiev from October 25, a significant number of houses there are still without heat to this day. So this is the capital ... Reverse from Europe? Will he be? They will definitely not tear themselves away for the sake of Ukraine. And besides, a very big question is whether there are enough reserves in the UGS to maintain working pressure in the system for any length of time. In 2009, when Russia first "screwed on the crane", in this mode Kiev managed to hold out for just over two weeks. However, over the past decade, the state of the Ukrainian GTS has definitely not improved. Continuing to persist in its unreasonable demands on Russia, Kiev this winter, as never before, risks putting the country on the brink of a "gas apocalypse" fraught with completely unpredictable consequences.