If you believe the statement of the environmental organization Greenpeace, Russia will again begin to turn into an international nuclear garbage dump. According to them, 3,6 thousand tons of "uranium tails" have already been sent from Germany to our country this year. In total, until 2022, the Germans will dump us 12 thousand tons of waste. The State Atomic Energy Corporation Rosatom, in turn, rejects these allegations. On whose side is the truth?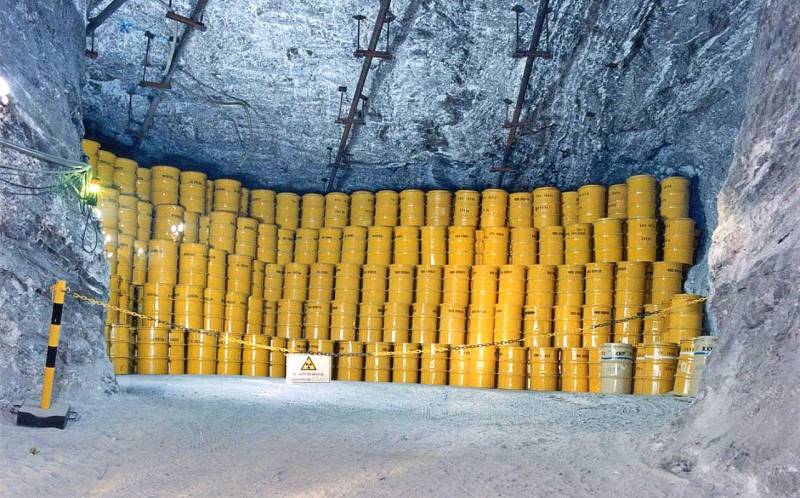 Unfortunately, the de facto Russian Federation has long been turned into a landfill for storing radioactive waste delivered from abroad. We are talking about the so-called DGFU (depleted uranium hexafluoride), obtained by creating fuel for nuclear power plants. It was more profitable to send hazardous materials to the German uranium enrichment company Urenco to Russia than to independently dispose of it. Today, as part of this rather cynical, but very "efficient business," about 1 million tons of "uranium tails" have been brought to our country for storage. For comparison, according to some estimates, the total global volume of such radioactive waste can be 1,5-2 million tons, that is, most of it is already on Russian territory.
What can not but strain people with developed imagination, depleted uranium is stored openly in steel containers at several specialized enterprises. That is, there is no question of any underground bunkers flooded with tons of lead. Fortunately, so far there have been no cases of container depressurization.
In 2009, under pressure from a worried public and environmentalists, the import of radioactive waste into Russia was banned. This victory gave hope that at least one million tons of depleted uranium would be limited. But, apparently, a loophole was found in the law "On the Use of Atomic Energy". According to him, the import of nuclear waste for storage is prohibited. But for "enrichment" - it is possible. Industry expert Alexander Uvarov enthusiastically explains:
Depleted uranium hexafluoride (DUHF) is not radioactive waste, but a valuable raw material for nuclear energy.
Uvarov assures that these projects pose absolutely no threat. Rosatom is also outraged, saying that after enrichment, depleted uranium will turn into a valuable commodity that will be sent back abroad. However, there are other opinions on this subject. The representative of the Russian Greenpeace, Rashid Alimov, explains that only 10% of the waste after its enrichment again acquires the required properties as fuel and is exported, while the remaining 90% remains in Russia.
If his calculations are correct, then out of 12 thousand tons of "valuable radioactive raw materials" 1,2 tons will be exported after its processing, and 10,8 thousand tons will remain in our country in addition to the million tons that are already available. Unless, of course, the Germans nobly take them away. After all, it's so safe, according to experts, at least have a picnic nearby.