Starting in March 2019, the US Air Force strategic bombers Boeing B-52H "Stratofortress" conduct testing of conventional air attacks in the Baltic Sea, simulating attacks on the Kaliningrad region of Russia. And so, on October 23, 2019, another American "strategist" worked out the bombing of the Russian Baltic Fleet, as reported by monitoring resources.
It is noted that the B-52H with tail number 61-0025 (call sign BRIG01) took off from the Fairford air base in the UK. At 15:40 Moscow time. he was seen at the borders of the Kaliningrad region. The flight took place at a speed of 663 km / h at an altitude of 6 km.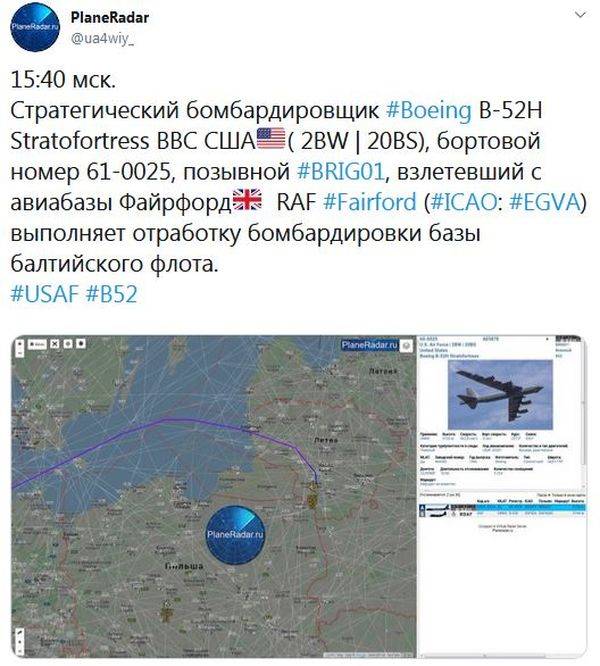 It should be recalled that Fairford airbase is located near the city of the same name in the county of Gloucestershire (England). It is used as an alternate aerodrome for the United Kingdom Air Force and an operational aerodrome for the United States Air Force. In March 2019, six "strategists" B-52H were transferred to this air base.
It should be added that the activity of Americans is not limited to the Kaliningrad region. For example, the USA regularly organizes provocations near the borders of Russia in the sky over the Black Sea, about which we
informed
readers on the eve.
At the same time, Moscow continues to urge Washington to stop such openly unfriendly actions. However, the United States continues to stubbornly create tensions. By the way, USA
plan
withdraw from the Open Skies Treaty (DON), which will further increase tension.