The domestic chip BE-M1000, which previously appeared under the name Baikal-M, was re-introduced by Baikal Electronics. This time, the manufacturer spoke in more detail about the technical characteristics of the first Russian processor, created on the architecture of ARM. The presentation took place as part of the Open Innovations forum in Skolkovo.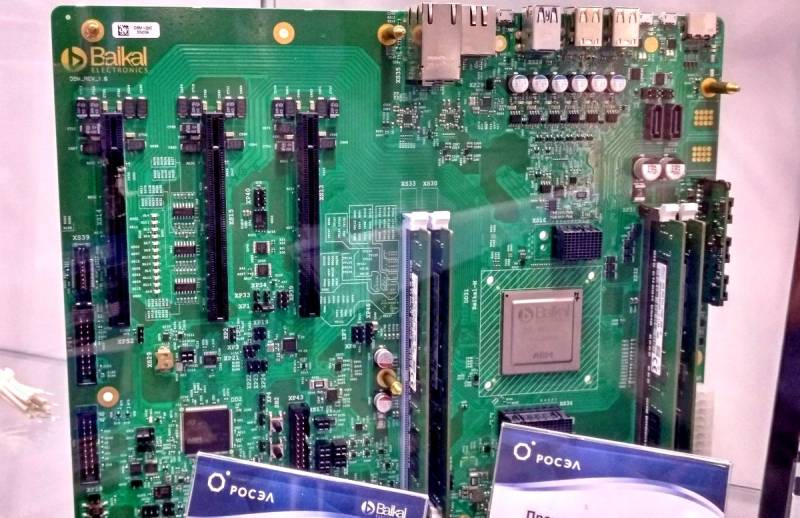 The new Baikal-M operates on eight 64-bit Cortex-A57 cores (ARMv8-A) and a Mali-T628 GPU. In addition, the chip was equipped with many communication interfaces (PCI Express 3.0, SATA, USB 3.0, Ethernet, etc.), as well as a video decoder with support for resolutions up to 4K.
The 28-nanometer BE-M1000 with a crystal area of ​​240 mm² consists of 2 billion transistors. At the same time, the thermal package of the processor is less than 30 watts. At the moment, it is known that the engineering sample of the chip is stably tested at frequencies of about 1,5 GHz. In addition, the developers declare the full functionality of the integrated graphics adapter and the ability of the memory controller to interact with DDR4-2133 SDRAM.
As for the serial production, the appearance of motherboards based on the new chip on sale is expected in the second quarter of next year. At present, key samples of Baikal Electronics have received trial samples of DBM boards with a BE-M1000 processor.
Over the next 2-3 years, the developer plans to release dozens, or maybe even hundreds of thousands of Baikal-M chips. The approximate cost of motherboards with the first domestic ARM processor is projected at $ 500.