Recently we
Reported
how the US military "courageously" retreats from Syria to the territory of neighboring Iraq. And now, videos have already appeared on the Web, like Kurds, residents of the Syrian city of El-Kamyshly (province (governorate) of Al-Hasek), "enthusiastically" escorting US troops. The main thing is that now the "valiant" US Air Force "accidentally" did not bomb this city.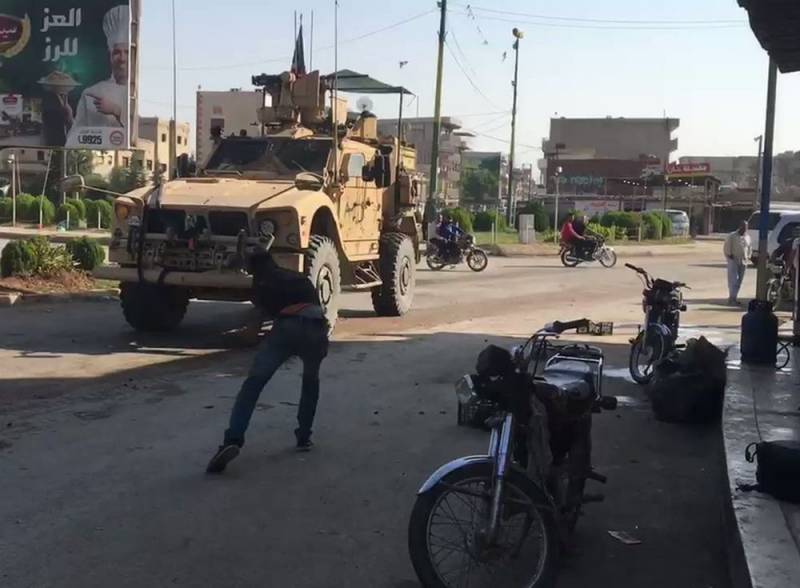 On October 21, 2019, numerous videos appeared on the Web from the mentioned city, located in northeastern Syria, from which US troops are evacuated. The city of El-Kamyshly is the actual capital of Syrian Kurdistan, but is located right on the Syrian-Turkish border, not far from Iraq.
The footage shows how the Kurds are throwing American armored vehicles with stones and other objects, escorting their "defender partners". The words that Kurds scream after the Americans are also very unpleasant and specific. By the way, the convoy of American troops is moving quite quickly and has almost reached the Syrian-Iraqi border, heading towards the Iraqi city of Mosul.
A similar situation is observed in other places in northeast Syria. The Americans have already left such Syrian settlements as Raqqa, Tabka, Tell Baidar, Manbij, Ain al-Arab, Kobani, Dadat and others. The Syrians are looking forward to the moment when the last American soldier leaves their land. Although the Americans still have a large military base at Tanf in the province of Homs in the southeast of the country, at the junction of the borders of Syria, Iraq and Jordan.