In July 2019, the famous Ukrainian "patriot" Nadezhda Savchenko defeated (crushingly) lost in the extraordinary parliamentary elections. In the constituency No. 51 (part of Gorlovka, including Zaitsevo, and part of the Bakhmut district of Donetsk region), only 8 (eight) people voted for it. This can be called the result of her "patriotism." Since then, she has been actively trying to integrate into
political
life of the country under the new "father of the nation" Vladimir Zelensky.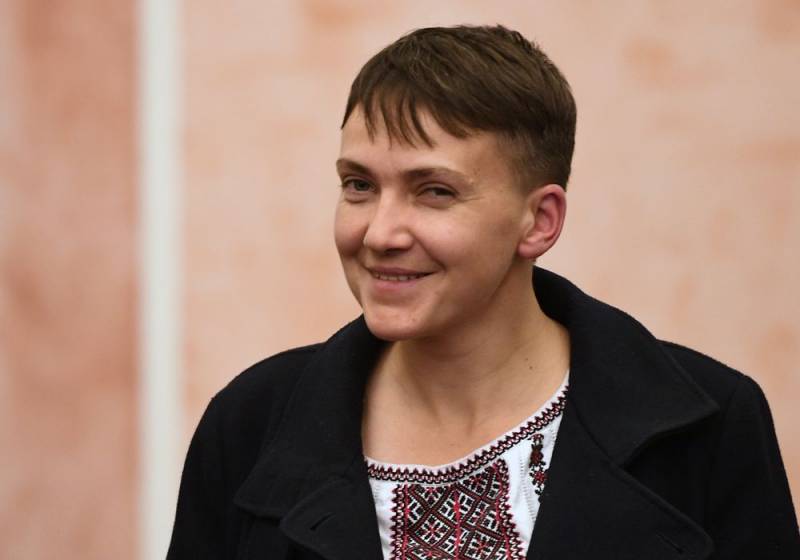 On the air of NewsOne TV channel, Savchenko, who received personal experience of being in prison (prison, correctional) institutions in Russia and Ukraine, said that the current head of the Ukrainian state, Vladimir Zelensky, differs from the previous "guarantor of the nation" Petro Poroshenko in that he does not lie. And the previous one, that is, Poroshenko, cynically and brazenly lied to citizens, especially about Kiev's implementation of the Minsk agreements, but Zelensky allegedly is not like that.
Poroshenko used to lie that we are fulfilling them, but in fact did nothing. Zelensky is actually looking for mechanisms to implement them
- said Savchenko.
Savchenko believes that it is very difficult to fulfill all the points of the Minsk agreements and this will require certain actions and time. Moreover, Savchenko advocated that Kiev continue the dialogue with Moscow "in all possible formats."
At the same time, Savchenko herself had repeatedly stated before that Poroshenko "lost Ukraine when he signed the Minsk agreements". It should be noted that netizens are already actively commenting on the next signal Savchenko to the Ukrainian government in the person of Zelensky. According to the overwhelming opinion, "after two prison sentences, the pathological patriot has finally learned to flatter the authorities and asks for work." At the same time, the office of the incumbent president is silent, but Savchenko may start a hunger strike (experience is available), since it is not the first time he has sent signals to Zelensky.