Russia is often compared to the United States as the foremost power of the collective West. And this comparison, as a rule, is not in our favor, judging by the American films and TV series, which form the idea of ​​life "there", and by dry lines
economic
parameters. Therefore, it is extremely interesting to listen to the story of the portal.
Ru_Open
quite a successful entrepreneur and US citizen, who deliberately left a profitable business and moved to permanent residence in Russia to get a red passport with a double-headed eagle.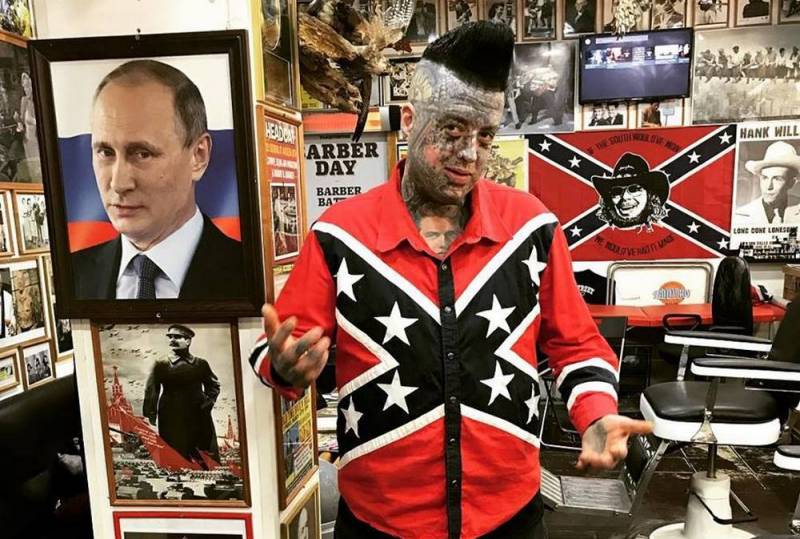 His name is Teddy Boy Greg, he is a famous barber ("barber"), and his body is almost all covered with tattoos. He moved to Moscow from Los Angeles, where many Russians secretly dream to go. Moreover, the American sincerely believes that living in Russia is much better than in the United States, and is ready to tell the truth about "that" life as he sees it.
How did he get to Russia
For the first time, he came to us in 2014 as part of master classes in the art of "barbers", and decided to move here forever after an hour. It should be noted that before that he had visited all over Europe, only in 35 countries of the world, so he has something to compare with. What did he see during this hour that made him take such a drastic step? A word to himself:
I see how ordinary Russians go about their business, no homeless, kissing gays or transgender people dressed in women's clothing. No feminist strikes like in America. I saw how beautiful it is here and, to be honest, only when I was here I already felt at home.
After 3,5 years, he accumulated enough money to move, and now lives and works as a barber in Moscow. He did not regret his decision, believing that Russia is a "ship that does not go to the bottom", in contrast to Western countries. And this is how he argues his position.
Why Russia
The Americans like our compatriots precisely because of their conservatism and not too great penchant for tolerance. In the USA, feminism, freethinking and gay parades are everywhere. In Russia, this is not accepted. Teddy Boy Greg believes that it would be prudent for our country to turn off all the Western media and the Internet, through which there is a decomposition of society and its traditional values. The most problematic and affected age are young people from 17 to 25 years old.
The barber calls Russian clients who listen to "stupid rap" and want to make dreadlocks to themselves completely intolerant in the eyes "niggas". And this is precisely where the fundamental difference between Russia and the United States lies, since after that, he would have lost his business and a lot of problems with the law in his homeland.
Why not the USA
Many new generation Russians want to work in the United States, believing that there you can make good money, for example, for IT people. And it is true. But not all. Tolerance is the norm in any large company, the American explains:
Yes, damn it, men in America wear women's clothes, they can work with you, and you should treat them like women, otherwise dismissal.
And there they will take up the "formatting" of your children:
When your son goes to a public school in America, they will convince him that being gay is normal, it is encouraged. And your daughter will be told that you need to meet with blacks, otherwise she will be considered a racist. And all this propaganda shit is crushing from all sides.
In a Russian family, the son's statement that he is gay, as a rule, will not cause a fountain of ostentatious joy from his parents.
According to the American, Western society is poisoned by liberalism and feminism, as well as racial prejudice. There, minorities are aggressively opposed to the white majority. But talking about it in plain text is impossible, since the widely publicized freedom of speech in the United States is a symbol. In reality, it is in Russia now that you can speak freely whatever you think. This is what attracted a supporter of traditional values ​​from Los Angeles.
About Russians
It should be noted that with all the sympathy for the Russians, Teddy Boy Greg also notes the negative features of our national character. To them he relates laziness, immaturity and insecurity. Of course, not all of them. But, in his opinion, a significant part of our youth is "lazy bastards". Therefore, he advises all "lazy assholes" not to dream of moving to the United States or elsewhere, since a change of place will not change the lazy essence of a person. And the American also notes the tendency of people of such a warehouse to blame all their problems on someone else, in particular, the authorities, or personally President Putin. To the problems of the Russian people, the original barber also includes alcoholism and widespread drug addiction. He also does not like the custom of trying to give a person a drink, even if he directly says that he does not drink.
Life in Russia is not easy, completely different than in the West. The American knew that he would earn less than at home, where his income could reach $ 3000 a week. But it's safer here, because at home in Los Angeles he was forced to carry a gun with him and be ready to use it.
About the Great Patriotic War and Stalin
An unusual American knows about the true history of the Second World War and the Supreme Commander of the USSR, perhaps more than not only his compatriots, but also our youth. He knows that the United States defeated Japan in the Pacific, but the Soviet Union defeated Germany. True, he learned all this only through self-education, since this is not taught in American schools. Joseph Stalin is his favorite political leader:
He made Russia a great power. And if it were not for Stalin, you would now speak German.

In his institution, an American cuts Russian veterans of the Great Patriotic War for free and wonders why they do not enjoy the same authority in society as American veterans.
What to change in Russia
Teddy Boy Greg believes that our country needs a rejection of Western-oriented values ​​and a revival of nationalism and patriotism. Strange as it may seem, medicine and roads are at an acceptable level, in his opinion. Russian food is better than American. I like a Russian bath where people really wash. In the US, he said, public baths are one of the favorite places for gay people to chat.
Russia is everywhere
It is unusual to hear from an American, but he believes that our country should unite not only the former Soviet republics, but also all of Eastern Europe, for their own good. On the border with Germany, in his opinion, it is necessary to erect a 30-meter wall with guns in order to protect themselves from the Western world with its values.
Russia in three words for a barber looks like this:
Future. Power. The culture.