The American moon exploration program Artemis is gaining momentum. On the eve of NASA presented equipment in which astronauts from the United States will make a second landing on our natural satellite in 2024. It is worth noting that the outwardly new suit called xEMU differs little from those in which Neil Armstrong and Buzz Aldrin flew. But, nevertheless, the suit received a number of improvements regarding safety, communication capabilities and convenience in general.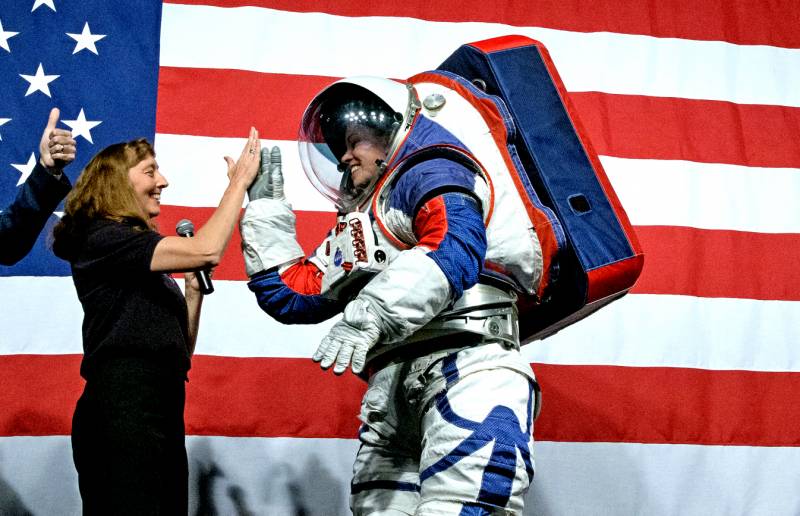 As it became known from the engineers' statement, in the new suit the main systems responsible for oxygen supply, thermoregulation, elimination of odors and carbon dioxide absorption were finalized. Moreover, many of them duplicated in case of any malfunctions. And also, the modern version of the equipment is more resistant to radiation and can withstand temperatures from -157 to 93 degrees Celsius.
In addition, the new xEMU suits have become more "maneuverable" and more comfortable. So, thanks to the use of new materials, the astronaut will be able to move more comfortably, make tilts and even raise stones from the surface of the moon. In addition, modern equipment will not rub, since each spacesuit will be made individually, in accordance with a three-dimensional model of the body of an astronaut.
The communication system has undergone changes. At the top of the new equipment 2 microphones are built in instead of one. Now the astronaut will be clearly audible, regardless of where he turned his head.
But the main feature of the xEMU suit, according to the developers, was its modular design. So, in the future the costume can be upgraded in accordance with the upcoming mission. For example, for flights to Mars.
However, despite the "innovativeness" of the xEMU suit, some
Technology
it has not changed at all. For example, in the case of hours-long "sorties", astronauts, as before, will have to wear diapers.