According to Bloomberg's calculations, refusing to use the American currency cost Russia about $ 7,7 billion in losses over the past year. Does this mean that the bet on the so-called dedollarization
economics
was the wrong decision?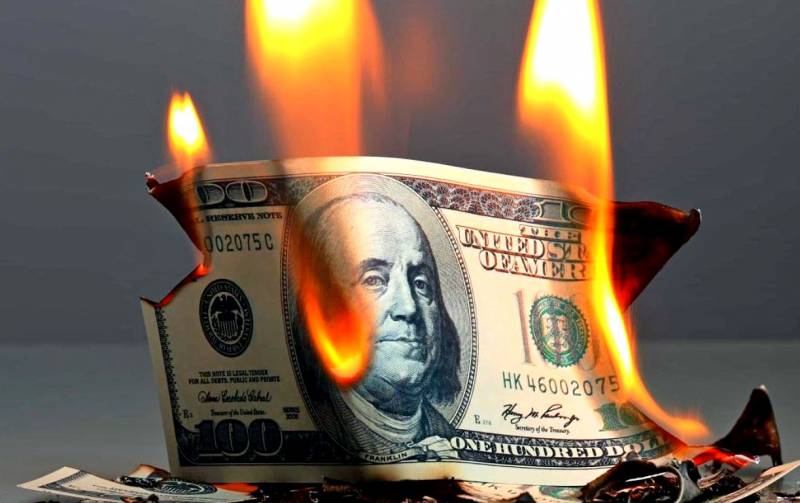 Dedollarization is the process of phasing out the use of the US currency in settlements. This is a forced step, which even domestic liberals in the government took with a creak. After a sharp deterioration in relations with the United States of America in 2014, Russia has already received several servings of Western sanctions. However, the biggest problems are yet to come.
For example, the US Treasury may well put a ban on settlements in dollars, not only for Russian state-owned banks, but for the entire banking system as a whole. Experts estimate the likelihood of such a tough scenario in the near future is not too high, but to ignore such a threat would be extremely frivolous. because
политическая
expediency outweighs all economic reasons.
So, over the past year, the Central Bank of the Russian Federation reduced the share of the dollar in its reserves from 43,7% to 23,6%. In exchange, the regulator increased the volume of assets denominated in euros from 22,2% to 30,3%, and in RMB - from 5 to 14,2%. Such diversification had a high price.
At first
, due to the constant devaluation of the Chinese currency, Russia's international reserves sank in value by many billions in dollar terms.
Secondly
, settlements in national currencies increase transaction costs, explains financial expert Sergei Deineka:
Transaction costs in payments in a currency other than the dollar will mainly be associated with the costs of foreign currency conversion.
It is no secret that Russia increased the share of settlements in national currencies from China, which amounted to 17% with a total volume of over $ 100 billion over the past year.
Thirdly
, the domestic regulator, investing in weaker currencies, received less profit due to the so-called "dollar rally", whose growth reached 6,5%.
And this is all true. But to reduce dependence on the dollar you have to pay a fairly high price. And not only Russia alone is taking such steps. Due to constant economic pressure from Washington, many countries are also cautiously stepping out of the dollar, gradually lowering the level of pressure from the US Treasury.
In addition, Bloomberg analysts clearly deliberately kept silent about the fact that the qualitative diversification of Russian reserves brought not only losses, but also profits. As you know, the Central Bank is rapidly increasing its assets in gold. Due to the increase in the value of the precious metal, the regulator's gain could, according to some estimates, be up to 100 billion in dollar terms. As they say, if it disappeared in one place, then it arrived in another.
In general, the de-dollarization carried out in our country cannot be measured in terms of profitable / disadvantageous. This is a matter of national security and economic sovereignty, for which you have to pay.