On October 14, 2019, the Russian Direct Investment Fund (RDIF) announced that it had agreed to cooperate with the Saudi company for technological development and investment (TAQNIA). The question relates to the development and commercial use of the Russian space launch complex Start-1. The agreement was signed during an official visit to Riyadh by Russian President Vladimir Putin.
The parties will work together on investments in the modernization of the Start-1 space-rocket complex and its subsequent commercialization in the interests of the Russian Federation and the Kingdom of Saudi Arabia
- said in an official statement.
The agreement provides for joint research and production activities by Russian and Saudi specialists in the design and manufacture of additional components of the specified launch vehicle. This should increase its quality characteristics and commercial attractiveness. The spacecraft is planned to be used to launch small space satellites of Russian and Saudi operators to low Earth orbit.
Investment cooperation with TAQNIA, support for personnel training, joint design and construction of launch vehicles will allow the foundation and partners to lay the foundation for the implementation of large-scale projects in the field of commercial launches
- emphasized the head of the RDIF Kirill Dmitriev.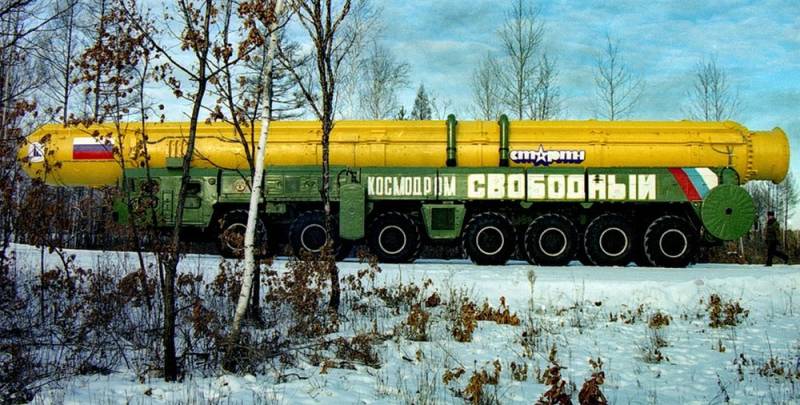 For clarity, it is necessary to clarify that the "Start" is a solid propellant space launch vehicle designed on the basis of the 15Zh58 Intercontinental Ballistic Missile (ICBM) of the Topol mobile soil missile complex at the SEC Complex-MIT. At the same time, there are two modifications of the "Start" launch vehicle: the five-stage "Start" and the four-stage "Start-1" (the payload for low orbits (400 km. Is approximately 500 kg.) From 1993 to 2006, 7 launches of the "Start" took place after which the program was frozen due to the lack of demand for such launches. The West, naturally, was in no hurry to help Russia develop its industry. But now there is a possibility of the beginning of unreasonable hysteria in the West that Moscow can transmit missile
Technology
Riyadh.