Our Turkish partners continue to "develop" the territory of our Syrian partners, at the expense of the interests of our Kurdish partners, with the tacit approval of our American partners. However, this list does not include our European partners, but there is a logical explanation for this - this is a completely different story.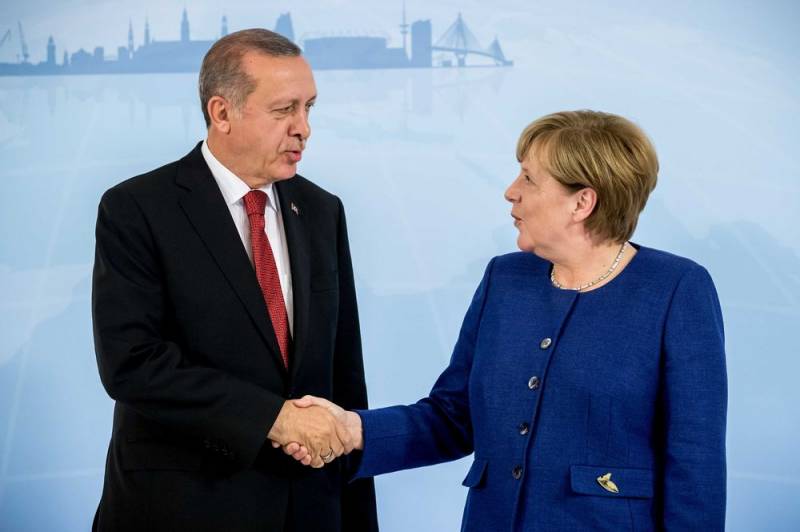 Recently we
Reported
as Turkish President Recep Tayyip Erdogan did not sit out in the political "trench", but began to openly threaten Europe with millions of Syrian refugees. Then Berlin, really taken aback by the cynicism and arrogance of Ankara, suspended the export of arms to the Turks.
And so, the Turkish NTV channel (Nergis TV - Turkish information television) informs that the Turkish leader Erdogan, during a telephone conversation with German Chancellor, Angela Merkel, said many unpleasant words to the German leader. For example, Erdogan suggested Merkel decide on a choice between Turkey and the Kurdistan Workers' Party, against which the "valiant" Turkish army conducts the military operation "Source of Peace" ("Spring of Peace") in northeastern Syria together with partners.
See what your Foreign Ministry is saying. Are we allies in NATO or have you taken a terrorist organization into NATO, but we don't know about it? Very weird approach. Are you with us or with terrorists?
- said Erdogan.
At the same time, it was clarified from Berlin that Merkel demanded that Erdogan immediately stop the troops and curtail the indicated military operation in Syria. It should be recalled that before this, the German Foreign Minister, Heiko Maas, made an important statement, which, perhaps, angered Ankara.
In light of the Turkish offensive in northeast Syria, the German government will not issue new permits for the supply of all military goods that Turkey could use in Syria
- said Maas in an interview with Bild am Sonntag.
Regarding the mentioned partners of Turkey, for clarity it is necessary to clarify that they are "moderate" terrorists from the Free Syrian Army (FSA). These are the "opposition" opposing official Damascus, who began the civil war in Syria in the spring of 2011. True, now they call themselves more "respectable" - the Syrian National Army (SNA), although their symbolism has not changed. So we will be watching with undisguised interest the reaction of Germany, which Turkey has accused of complicity in terrorism.