Recently
сообщалось
that Russian President Vladimir Putin told media representatives about the development of the latest shock systems. Before that, Igor Korotchenko, a Russian journalist and military expert, editor-in-chief of the National Defense magazine and director of the Center for the Analysis of the World Arms Trade LLC, described the possible retaliatory measures for Moscow to withdraw Washington from the INF Treaty.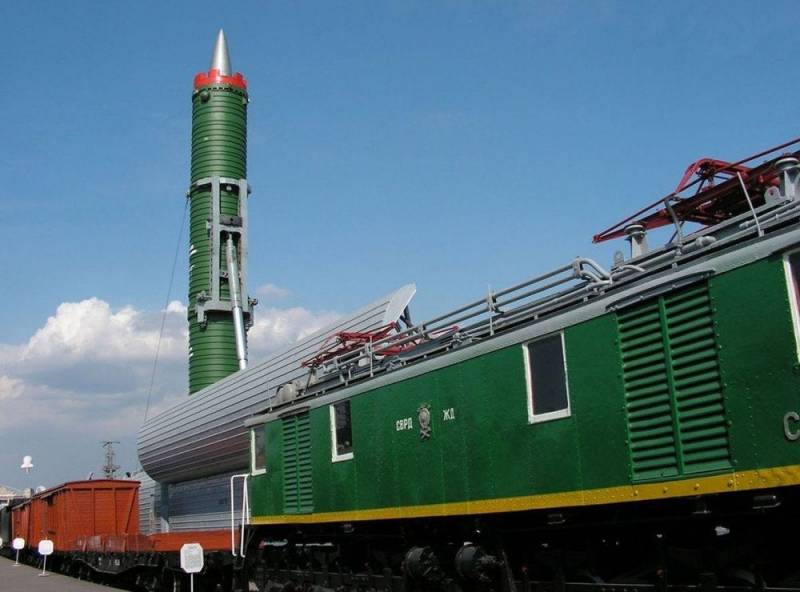 According to Korotchenko, one of Russia's retaliatory steps could be the "restart" (revival) of the Barguzin project of the Barguzin military railway missile complex and the strengthening of aerospace defense on the western borders. After all, the United States can begin to deploy medium-range missiles not only in Asia, but also in Europe. Therefore, Moscow will have to go to extreme measures.
Obviously, two programs have to be implemented in the framework of building strategic nuclear forces in Russia: restarting the BZHRK program with solid-fuel ballistic missiles, which will be impossible to hit at the initial stage.
- said Korotchenko
RIA News"
.
He explained that it would be extremely difficult for American satellites to find a rocket train moving between Moscow and Vladivostok through the almost endless expanses of Russia. In addition, the train, which is practically no different in appearance from conventional (standard) trains. He stressed that the BZHRK can be created in the shortest possible time, especially, given the experience and developments.
In addition, Korotchenko did not rule out the possibility of Russia creating a new medium-range mobile ground-based missile complex, similar to the Soviet PGRK RSD-10 Pioneer.
This will be a new project, but given that we already had the Pioneers, the design sites and production facilities were preserved, we can quickly create this weapon, but at a new level of technological development.
- added Korotchenko.
He noted that these are extreme response measures that Russia will take only with the most unfavorable development of the international situation. As for strengthening the western border of Russia, then, in his opinion, it is worth deploying an additional number of the latest radars and air defense regiments, which are armed with the S-400, Buk-M3 and Tor-M2.
This will allow us to guaranteedly identify the facts of the preparation of the attack on Russia and prevent the defeat of targets in our country.
- assured Korotchenko.
It should be recalled that in September 2009 the Russian Ministry of Defense reported that the Strategic Missile Forces did not exclude the possibility of resuming the use of military railway missile systems. In 2012, development work began, but in December 2017, it was officially announced that the development of the complex was stopped for economic reasons. According to reports of that period, one Barguzin BZHRK was equated with a missile regiment and had to carry six ICBMs. The missile division of the Strategic Missile Forces was to include five such BZHRK. Since then, nothing is known about the project.