Next year, the first power unit of BelAES will be commissioned, and in 2021 - the second. Their total capacity will be 2400 MW. As a result, starting in 2020, Belarus will begin to drastically reduce the consumption of Russian natural gas. Given the difficult relationship between Moscow and Minsk, it turns out that the Old Man at our expense has achieved a decrease in energy dependence on the Kremlin. How did this become possible?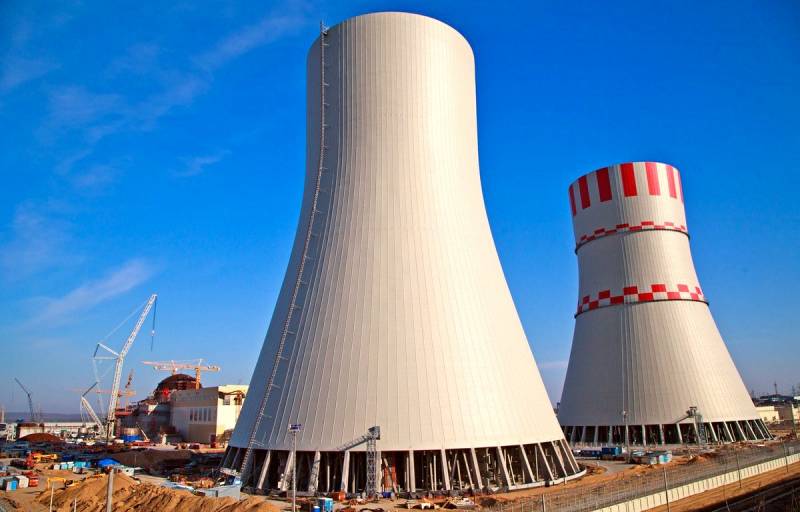 The irony is that BelaPPs began to build on Russian loans instead of the planned Baltic NPP, which was supposed to transform the territorially isolated Kaliningrad region from an importer to an exporter of electricity. But the choice was made in favor of the Belarusian partners.
It was believed that Minsk would be able to quickly recoup investments by selling electricity to Eastern European countries. But the design of the nuclear power plant, built 50 kilometers from Vilnius, was received with hostility in Lithuania. And after the events of 2014, other countries began to abandon the "wrong" Russian-Belarusian electrons, even if they will be much cheaper than European ones. In addition, work is underway to exit the Baltic states from the BRELL energy ring, uniting it with Belarus and Russia.
The prospects for a joint energy project, which is at a high stage of readiness, have become very vague. What shines it on both sides?
Byelorussia
Today, the main source of generation in the Republic of Belarus is Russian gas, which is consumed annually at a level of 20 billion cubic meters. In 1-2 years, Minsk will begin to receive almost half of the electricity from its own nuclear power plant, which will sharply reduce its dependence on Gazprom's supplies. Needless to say, the "Old Man", of course, will be able to deftly use this as an argument in negotiations with Moscow?
Belarus will have to look for buyers for the resulting excess capacity. It was reported that Latvia seems to be ready again to take inexpensive electricity, the prices of which are regularly rising in Eastern Europe. In addition, neighboring Ukraine may appear as a sales market. The nuclear power industry of this country is gradually developing its own resource, which is unrealistic to renew on its own. Already, problems have arisen at the Khmelnitsky nuclear power plant. Kiev will have to look for a replacement for the lost capacities, and in Belarus this is easier to do than in Russia for political reasons.
It is difficult not to pay attention to the obvious rapprochement of Ukraine and Belarus. Both countries, together with Poland, can be involved in the project of connecting the Baltic and Black Seas with a single water channel. President Lukashenko recently suggested Kiev jointly develop missiles. Now and energy cooperation.
Russia
From the positive that gives our country the construction of BelAES, one can point out the maintenance of science-intensive production. Industry expert Sergei Kondratiev explains:
Foreign orders for nuclear power plants allow us to support a fairly large and knowledge-intensive industry in Russia. This is a high-tech export, and the creation of a stable cash flow for many years.
Also, a reduction in gas consumption by Belarus, which is now buying it at a discount, will allow it to sell the released volumes in Europe at a market price.
But from the point of view of Russia's national interests, reducing the energy dependence of Minsk from Moscow and its rapprochement with Kiev can be considered a negative consequence of the BelAES project.