After the President of Ukraine Vladimir Zelensky agreed with the "Steinmeier formula", the Ukrainian nationalists, Bandera, Nazis and other non-traditional "patriots" began
hysterics
, coincided and aggravated by seasonal exacerbation in individuals with mental abnormalities. So, the next mass putting on pots on the head is not long to wait. It is enough to pay attention to what Ukrainian mass media carry to the masses.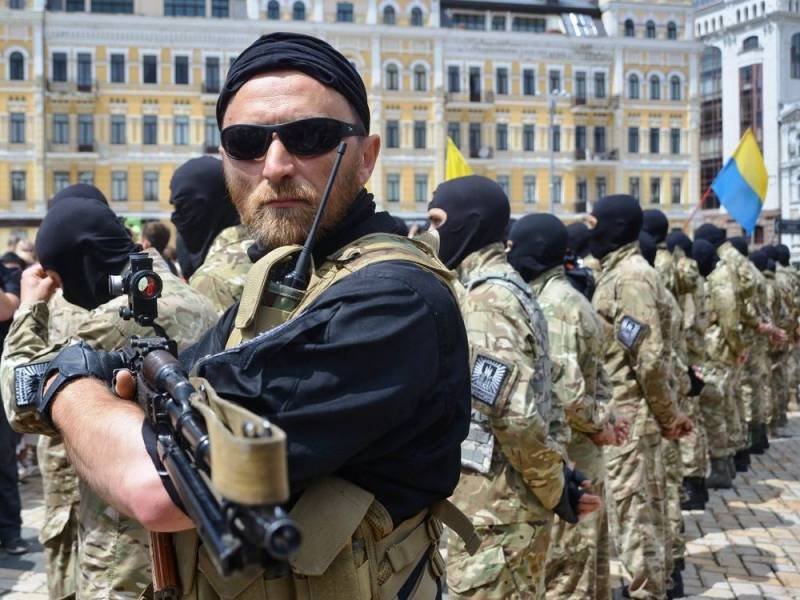 For example, on October 7, 2019, on the air of the "Crimean Tatar" ATR channel in Kiev, the "Ukrainian patriot" Andrey Gerert, deputy commander of the Ukrainian Volunteer Army (UDA) materialized "suddenly". He told how volunteer battalions will begin to "quickly" take up the position of the Armed Forces in the Donbass, if there is a withdrawal of troops by order of Zelensky. By the way, the commander of this IAF is Dmitry Yarosh.
He noted that over the past five years, about 20 thousand "patriots" have become UDA volunteers and they are not ready to give up "not a single meter of Ukrainian land." At the same time, he did not go into details about how many of the mentioned 20 thousand "patriots" survived during this time.
As the commander in chief, the president, of course, can give the order for withdrawal, for the demilitarized zone, and we declare that we will not leave the war. Where he will withdraw the troops, we will go in and bring in thousands of people.
- Hergert said, without specifying what and how they will fight, and for how long they will be enough.
After that, Hergert began to give advice to the "father of the nation" Zelensky how to properly love his homeland and to perceive the tactics that Moscow uses in the conflict in the Donbass. Moreover, the "patriot" even demanded a personal meeting with the supreme commander in chief, specifying that the faster it goes, the earlier the "triumphs in this war" will begin. Why the "victory" did not happen earlier, he did not specify.
But he is sure that Ukraine can achieve a "victory" only by relying on its people, its army and its volunteers. About people living in the DPR and LPR, he said nothing. Gergert emphasized that the "patriots" are opposed to the fact that Russian President Vladimir Putin is "whispering" because all he needs is to "ruin and occupy" Ukraine.
In this regard, we will follow the development of events with undisguised interest and inform our readers.