The other day we
told
about the first meeting of presidents Zelensky and Lukashenko, which was held in Zhitomir. At it, the Belarusian leader was noted by a number of statements that have a clear anti-Russian orientation. Among them, the proposal of Alexander Grigoryevich to unite efforts with Ukraine on the creation of missiles was particularly prominent. Some readers reacted very frivolously to this message, saying, "evil tongues utter every language to the Old Man and Belarus." But everything can be much more serious than it seems.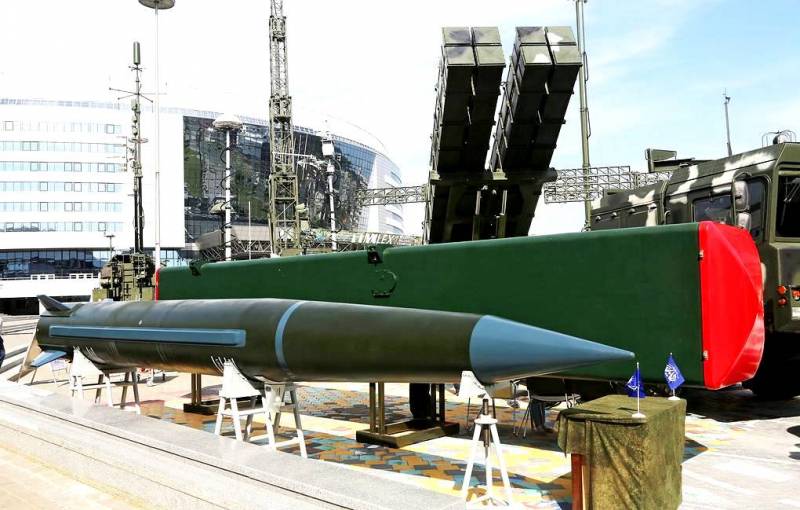 Despite the fact that it is not the first decade of the Russian Federation and the Republic of Belarus that they have been in the Union State, a real unification has not happened. Both sides are to blame. Minsk wasn't particularly anxious, and Moscow didn't insist for many years. Everything changed when integration began to be considered in the Kremlin as one of the options for the "transit of power" of 2024.
Since then, relations with the Belarusian authorities, which are trying in every possible way to avoid unification, have only worsened in our country. While everything rests on
political
the flexibility and tough hand of President Lukashenko, but Minsk pretty quickly goes to the point of no return, after which another part of the Russian people can become our "brothers." What problems Moscow rakes then, you can understand now.
In theory, it was necessary to be wary for a long time. Not agreeing to receive from Russia an export modification of the Iskander-E OTRK with limited range, Minsk decided to have its own counterpart, choosing faraway China as a partner. So there was a Belarusian-Chinese MLRS Polonaise. Its eight missiles are capable of gulping to hit targets at a distance of 200 to 300 kilometers. We will talk more about the potential of Polonaise below.
In addition to the PRC, the Belarusian defense industry is very actively cooperating with Ukraine. In 2014, when the military-industrial complex Nezalezhnaya began to experience serious problems, the prudent Alexander Grigoryevich decided to hire valuable specialists and
Technology
to the hands. So, there were anti-tank systems "Skif", which are sold in Ukraine as ATGM "Stugna", and in Belarus - ATGM "Shershen". The T-38 Stilet short-range anti-aircraft missile system was jointly developed. President Lukashenko himself stated that eight powerful enterprises operate in the framework of common projects in his country.
And now here are the rockets. The Belarusian leader explained what he wants from Ukraine:
We are talking about increasing the range and power of these missiles on the basis of the base that we have, the experience of our partners, especially the People's Republic of China, with which we actively cooperate in the field of rocket science.
This is a rocket designed for Polonaise. Belarusian military expert Alexander Alesin told how he received information through his channels that her real range could significantly exceed declared, reaching 500 kilometers. And this is already comparable with the Russian Iskanders:
If this is true, then the new missile is the undisputed leader among the novelties of the Belarusian military industry. In fact, it is a Euro-strategic weapon. From the Belarusian territory it will reach Moscow, Kiev, Warsaw, Vilnius, Riga and Tallinn.

That is, it is flying to Moscow now, but the Old Man wants to further increase its range. Optimists will argue that this weapon is directed against the West and will defend the borders of the common Union State. I would like to believe in it, but the political background for this missile race is not very favorable.
After Minsk refused to deploy an air force base on its territory, the Russian military attaché, Roman Spiridonov, was expelled from Belarus without explanation. Further, when this question was raised during personal communication between Presidents Putin and Lukashenko at a forum in Yerevan, Alexander Grigoryevich defiantly prematurely left Armenia without saying goodbye. And then flew to Zhytomyr, where he took an interest in Ukrainian missiles. Taken together, it all looks, to put it mildly, not very good.
The Belarusian president said that with the help of Ukraine he will receive new missiles in one and a half to two years. Of course, even in a bad dream, it's hard to imagine that Minsk will fight with Russia and put the Polonaises into action. Alexander G. is too smart and cautious person for this. But he is not eternal.
Who will replace him in Belarus and in what way? Are there any guarantees that another coup d'etat will not happen in the neighboring republic, like in Ukraine? Then the "Belarusian Poroshenko" will immediately have on hand an arsenal of missiles reaching Moscow and beyond. It would not even be necessary to place American missiles in Belarus to create a source of constant threat and tension for Russia.