Active Russophobes, firmly entrenched in the German television channel Das Erste ("First"), gave their next "work" uphill. The channel's material says that initially the Russians rejoiced in the unification of Germany, but after a while, having felt the consequences of this, they "sobered up". The channel claims that now for them (Russians), the Berlin Wall is a reminder of its former strength, and its fall is a symbol of defeat.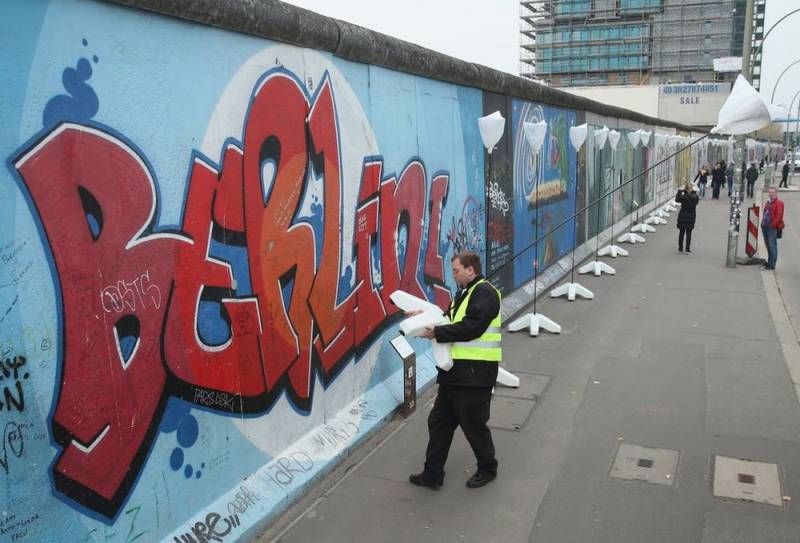 For clarity, it should be noted that the owner of the Das Erste TV channel is ARD (Arbeitsgemeinschaft der öffentlich-rechtlichen Rundfunkanstalten der Bundesrepublik Deutschland, "Working Party of Public Law Broadcasting Stations of the Federal Republic of Germany") - an association of German regional public broadcasters. There are many of them, but each of them has real owners. This is a kind of circle of Russophobia.
After all, they accused Russia of "aggression" in 2008, while covering the armed conflict in South Ossetia, in 2010 blamed the Russian air traffic controllers for the crash of the Polish Tu-154 airliner near Smolensk, and welcomed Euromaidan to Ukraine in the winter of 2013-2014. Moreover, in Germany itself, the attitude to the "product" of this gigantic media holding, waging an information war against Russia, is very cautious, since the "public figures" regularly give distorted information, frankly inciting hatred between peoples. Therefore, the next "run over" to Russia is not surprising.
The authors specify that many Russians "perceived the collapse of the USSR not as a" triumph of democracy ", but as humiliation." And indeed it is. However, why the authors believe that "the Russians considered the Berlin Wall as a bastion from the United States and NATO" is not entirely clear.
For some reason, it seems to us that the bastion from NATO was the Group of Soviet Forces in Germany (GSVG) - the world's largest operational and strategic association of armed forces abroad, and not the Berlin Wall. But Russophobes argue that the fall of the Berlin Wall "was for many a proof that the Soviets lost the Cold War."
The authors also recalled the negative attitude of Russians towards the nomenclature of the late USSR. This is an old trick when well-known facts that are not directly related to a particular issue are presented as evidence of conclusions that are necessary for themselves.
It should be recalled that in 2016, Russian President Vladimir Putin said that the fall of the Berlin Wall did not unite Europe, but only moved the line of division deeper into the east of the continent.